In our journey to eliminate sugar and dairy from our diets I am constantly on the lookout for new recipes as well as ways to still make the recipes we love without having to 'sacrifice' an ingredient. I have found that in many cases it means I am making my own salad dressings, condiments and even pasta (I made an italian sausage tortellini soup in the slow cooker which was fabulous btw! but all the tortellini in the store had some kind of cheese in it – so I grabbed a recipe and made my own substituting with vegan cheese. It worked perfectly!) Yes it means more time in the kitchen, though I am learning how to cut that down, but it also means better healthier and tastier meals.
So you can imagine how happy I was to find this homemade pesto recipe. The ingredients are simple and it was super easy to make! I love pesto for pasta dishes and for this slow cooker Lemon Pesto Salmon I make – oh my gosh soooo good! And I always cringed when I used it because of the dairy in it. But making my own allowed me to substitute the vegan parmesan and presto I had a delicious and super tasty homemade pesto! It was so good my daughter and I were eating it with a spoon BEFORE we added it to anything else.
This recipe calls for pine nuts, which are quite expensive, but you only need a small amount and if you buy them in bulk you can get only what you need; then it's not so bad. And honestly I don't think you'd want to leave them out as they add to the overall result!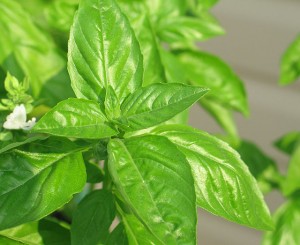 It also calls for fresh basil, which I love! the scent is so refreshing. I recently bought a basil plant which is producing way more fresh basil than I am using, so I was happy to discover this which calls for a good amount of it.
The thing that impressed me the most with this recipe was how easy and fast it was to make. Within 5 minutes it was all together and done.
If you're looking for a great pesto recipe definitely try this one out, cause you know it does go with just about anything (yes I am thinking of other recipes I can make that use it so I can make some more 🙂 and for my fresh basil too.
Homemade Pesto
3/4 c. packed basil leaves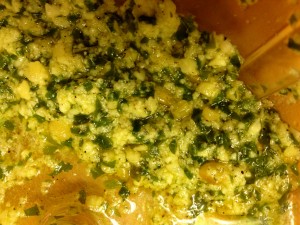 3 tbsp. pine nuts
1 clove garlic
1/4 c. vegan parmesan cheese
1/2 virgin olive oil
Place basil, pine nuts, garlic, vegan parmesan cheese and oil in hand food chopper (I use Tupperware's Quick Chef® but any small hand food chopper will work). Turn handle until finely chopped. Season with salt and pepper.
Makes 2/3 cup