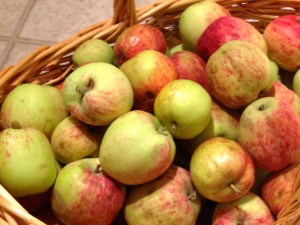 Last week I was telling you about my discovery of apple butter and how delicious it is; and that I was going to explore making my own. With the amount of apples that we have been reaping off our tree I thought that this would be a quick and easy way to use them up. I have been looking at a large bowl full of apples for a week now and knew I had another crisper drawer full in the fridge. Some of them were starting to go soft and I knew that the time was now or never to use these babies up, or they would go to waste.
So last night I Googled an apple butter recipe, and finding one that I Iiked, went to work. This is when I realized that the recipe called for 9 quarts of applesauce. 9 quarts! I quickly converted this to cups and discovered it meant 36 cups of applesauce. Now I have a lot of apples but honestly I didn't have enough to make 36 cups.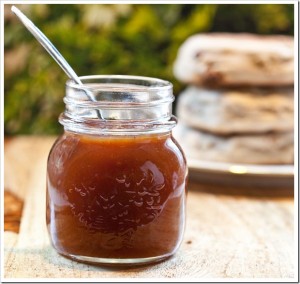 I knew I needed to use up these apples, and though pies and crumbles are yummy and being gobbled up, they were not using up the amount of apples I needed to fast enough. I had to do something with these apples fast or I was going to have a nice pile of brown mush for the compost. I decided to make applesauce regardless as it would use up the rest of the apples quickly. The twins love eating applesauce at breakfast, sometimes sprinkled with cinnamon and I had an apple muffin recipe in mind that required applesauce I was hoping to make.
So I did. I cored and cut them and put them in a pot to cook. Now I make applesauce all the time, but in my recent search for an apple butter recipe I discovered that there was a better way to make applesauce then what I had been doing previously.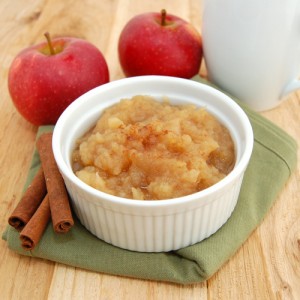 I used to cut and core the apples and put them in a pot, cover them with water and boil them til soft. Then I would drain the water and puree them in the blender. I found that though this was good, the applesauce tended to be a little watery. On this website it suggested a slightly different way. First of all they said to use only an inch of water in the bottom of your pot, as apples are 99% water and they will cook down making their own juices as they cook and soften. The second thing they recommended was that you mush the apples through a sieve, this way you get a nice thick, yet smooth applesauce. This was the method I tried.
I used only an inch of water and let them cook and soften. Then I drained whatever water was left, which wasn't much, and strained and mushed it through a colander, leaving the peels (which I had left on) on top in the sieve and a nice thick applesauce in the container underneath. I was really impressed with how this turned out and will use this method to make applesauce going forward.
Luke and Chloe really like it too as they gobbled it up at breakfast asking for second and third helpings. I had to hide the rest in order to have enough left to make my muffins.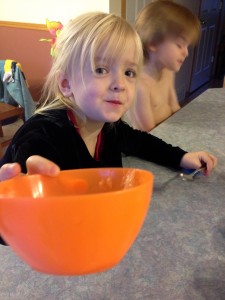 The recipe I had in mind using applesauce was for Apple Crunch muffins; one that my sister made in her home ec class in junior high. It became a favorite in our house, I think because of the yummy sweet topping, and one that was made often. I have since modified it to meet our dairy free and sugar free needs, but find it just as yummy and delicious. In fact I do not notice a difference between the original and the sugar free version.
When the muffins came out of the oven this morning, everyone was quickly asking for a taste. No one was disappointed when they took that first bite and enjoyed the sweet topping, yummy moist applesauce and fresh warm muffin. I really did find that the homemade applesauce did make them taste that much better. But isn't that always the case with homemade? 🙂
So if you can, when you make these muffins I would recommend homemade applesauce if you have it. If not you can buy an unsweetened natural organic applesauce at Superstore, or your local natural food store.
Now I hope that this is finally the end of our apples (I don't see anymore on the tree, but you never know…) So there will be no mad rush to use them up or create new recipes. Well… until next year that is…
Enjoy these delicious muffins and maybe double the batch, as they won't last long. Ours certainly did not!
Apple Crunch Muffins
Topping:
3/4 c. coconut sugar
1/3 c. all purpose flour
2 tbsp. Earth Balance vegan spread
Muffin:
1 c. all purpose flour
1/2 c. whole wheat flour
4 tbsp. coconut sugar
1 tbsp. baking powder
1/2 tsp. sea salt
1/2 tsp. cinnamon
1 egg
3/4 c. almond milk
3 tbsp. olive oil
4 tbsp. applesauce
Make topping by mixing coconut sugar, flour and Earth Balance; set aside. In a medium bowl, mix flour, coconut sugar, baking powder, salt and cinnamon. In a separate bowl, mix together egg, almond milk and olive oil. Add to dry ingredients and stir until combined.
Drop cupcake liners into muffin tin, or grease tin with Earth Balance. Fill each 2/3 full, then top with applesauce and topping.
Bake at 375 F for approximately 20 minutes. When toothpick comes out clean muffins are done. Place on a cooling rack, let cool 5 minutes in pan. After 5 minutes, remove muffins from tin and let completely cool. Muffins can be stored in an airtight container.
Makes 12 muffins
What are some yummy recipes you have that use applesauce? Share them in the comments below.