Bonding with my oldest son is a bit of a challenge these days. He's 11 and into all kinds of things that are not a huge interest to me. I'm 41 and his Mom, so there are not a lot of things that I like that are of interest to him. We do have some common ground of course, we both love board games, especially Settlers of Catan, so you will often find us in the evenings battling it out for the longest road and the most settlements.
Sometimes it's a timing thing to, I'm making supper, or having to tend to his younger brother and sister. So when we had the opportunity to go to Sky Trek in Revelstoke, British Columbia to do the high ropes course; I jumped all over it.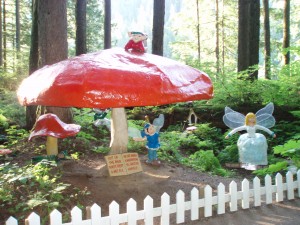 We had been to the Enchanted Forest next door earlier that morning with my Mom and the twins, which we thoroughly enjoyed. But Matthew and I were both kind of eyeing the course through the trees. I had always wanted to go there since they opened and though Matthew had had the opportunity when he was about 5 to do the kids course, he wanted to get up high in the trees. So when Matthew asked about the course I said well let's go check it out.
His eyes lit up, he was so excited with just the prospect of 'maybe' going. We discovered that the course took 1-3 hours to complete and though reasonably priced we wondered what Gran and the twins would do for that long.
My Mom graciously offered to watch the twins while we went and did the course. So after a quick lunch, off we went! I grabbed my closed toed shoes from the car, which I was glad I had thrown in that morning, as there are no open toed or flip flops allowed. Though I wish I had also had the foresight to put in socks, which would have been much more comfortable.
Matthew and I were both excited and almost ran up to the clerk to get going. First of course we had to fill out waivers, then pay, then meet our guide to get geared up and ready to go.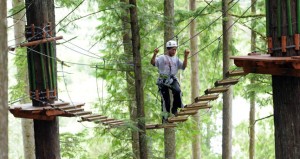 The course consists of 4 components, each one getting higher and more difficult as you go. Training is first, where your guide gives you a demonstration of the elements and obstacles, what equipment to use and how to keep yourself strapped in and safe. We all had helmets, harnesses and carabiners. We had 2 that we needed to clip in and each had to be done in a certain way in a certain order. He showed us how to use our zipline attachment as well as telling us only 3 people to a platform and to remember to call clear after we completed an element – which was the cue for the next person to go.
Then there's the green, blue and black courses, each one getting higher and more difficult as you go. So by the time you hit the black course you are 40 feet in the air and challenged!
Matthew went first and I was following along behind him. At points when we were waiting for others in front of us we would chat or connect, discussing the last element or what was coming up; continually moving higher and higher. I found the first 3 parts comfortable and easy to navigate, but by the time I hit the black I was not only tired but a little freaked out. Some of the elements were pretty tricky and they definitely pushed my comfort zone.
The very last leg of the black course you could choose to do the double black diamond or stay on the single. The double black offering shorter lengths, more rests, but more challenging (lots of swinging obstacles), while the single black was one long haul across a rope net, which was more tiring but a lot easier to do.
Matthew, the trooper, chose the double black. In fact in his mind there was no question as to whether he would do it or not. I applauded him, but said I was going to stick to the single. Matthew did very well, I was so proud of him. The last leg on the double black he was there legs spread apart between two triangle elements, and 'resting'. I could tell he was tired, but he was almost there and he was determined. It was one of many moments that I was proud of him or maybe got a little teary eyed watching him and how he confidently navigated the course, though at times I knew he was a little freaked out like I was.
We completed the course with one final zip line to the bottom and high fived each other on the ground. We were surprised to discover that it had indeed taken us 3 hours to complete the course. No wonder we were tired!  And thirsty! as you can't take water or any extra stuff up there with you. In fact I asked a lady on the ground if she would take a few photos of us and send them to me (unfortunately I don't have them yet), as though there were times when I could have taken a really nice picture or two, there was no way I would have been able to carry the camera!
Some people may argue that because it was an individual activity that it was not really a bonding experience. But I would disagree. We connected and shared an experience where we both pushed our limits and can now share and discuss this experience. I also have etched in my mind some of those great 'shots' of him in the trees which will last forever in my mind.
I enjoy experiences like that with my kids and hope I get to have all kinds with each one of them. And I hope that they enjoy them to and that they will stand out in their minds as some of the best experiences they had, even though it was with Mom.