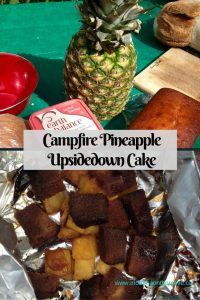 When I found this recipe for campfire pineapple upsidedown cake I was in heaven! Growing up pineapple upsidedown cake was always a treat in our house, my Oma being famous for making it.
My Dad absolutely loved it and every time my Oma came to visit she would make one for him (that and crumb cake, also delicious). So when I discovered this recipe we could make over the fire I knew that we had to try it. Plus I was excited to find a new camping dessert recipe, cause though I love banana boats and cinnamon apples I also like variety on the menu.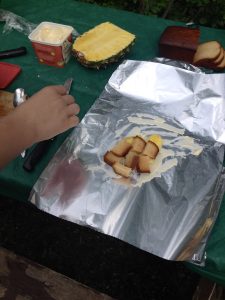 We made this recipe on our first camping trip this year on July long weekend. We actually made it in the afternoon on one of our days away, before we had supper. One of the things I find when camping is that because there is no schedule meals often run later than usual. Often we are not finishing supper til 7 or 8 and by that point not only am I full but I don't feel like creating more food. So we decided – in the words of my father – that we would 'eat dessert first'. Then worry about supper later.
I had made the pound cake at home and brought it with us which was easy enough to do. You can also buy a pound cake if you prefer but I needed a sugar free version. Plus honestly, regardless of if I was looking for sugar free or not, I usually bake cake from scratch no matter what it is. I am not one to buy cake from the store in general.
I had also experimented with the pound cake recipe using honey for the first time as the sweetener. Oh my it turned out well. Nice and moist. Yum! We had a hard time not eating just the cake before we made the rest of our dessert.
The recipe for campfire pineapple upsidedown cake is simple – pound cake, pineapple, coconut sugar (great natural alternative to brown sugar), Earth Balance and cinnamon and/or nutmeg. Baked in foil over the fire until the sugar melts and you get that nice googey syrupy liquid. You do need to be careful not to over cook it as it can burn, especially if you are doing it over the grate on the fire. Alternatively, you could burn your fire down to coals and bake it, but that would take longer!
Campfire Pineapple Upsidedown Cake (sugar free & dairy free)
pound cake, cut into chunks *recipe for pound cake below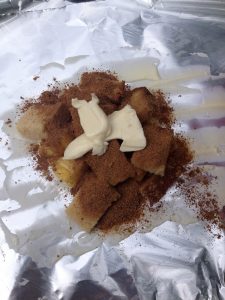 fresh pineapple, cut into chunks
dash of cinnamon, nutmeg
coconut cream for topping
1 healthy spoonful of Earth Balance Vegan Spread, plus a little bit to grease your foil so the dessert doesn't stick
heavy duty tinfoil
Tear off piece of heavy duty tinfoil (about 12×12″) and place on table (or flat surface). Use a small amount of Earth Balance and spread evenly over the foil. Slice and cut pineapple and place on foil. Slice pound cake and cut into squares about 1 inch thick and place on top of pineapple. Put a healthy spoonful of both Earth Balance and coconut sugar over pineapple and cake, sprinkle with cinnamon and/or nutmeg.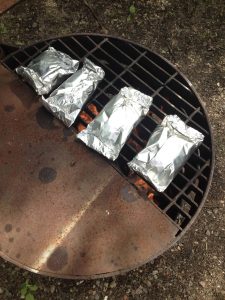 Close up the foil by brining two ends together and folding over then rolling down til tight. Then fold over and roll on each end. This creates a nice tight packet that keeps everything in and is easy to open when done.
Place foil packet on the grill over fire. (Also works well by putting into coals of fire, but no flame or BBQ). Cook for about 5 minutes and then check it (takes a little longer on the BBQ). It is ready when the butter and brown sugar have melted and formed that yummy syrupy liquid over pineapple cake mixture. Put a dollop of coconut cream on top if desired. Enjoy! It will be hot so be careful.
We loved these. Everyone inhaled theirs and then wanted more. And I loved how simple it was. The kids could make and put together their own (so making it as little or as big as they wanted) and it didn't take long to cook as you are basically just melting the Earth Balance and coconut sugar. Then voila! it is ready at any time of day, whether you choose to have it before supper or not.
This is the recipe for the pound cake I made. It was also quick and easy and I really liked using honey as the sweetener. Make sure you sift the flour as though it takes a few extra minutes to do so, it makes the cake lighter and fluffier.
Honey Pound Cake
1 c. Earth Balance vegan spread
1 1/2 c. flour, sifted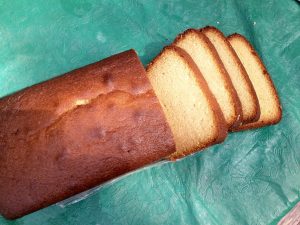 1 c. honey
1 tsp. vanilla
5 eggs, lightly beaten
1/2 tsp. sea salt
Lightly grease a 4 1/2 by 8 1/2 inch loaf pan. In a large bowl beat Earth Balance and honey together until light and fluffy.
Add vanilla and then gradually add eggs, beating well. With mixer on low, add salt and the flour. Beat well to combine.
Transfer batter into loaf pan and bake at 350F for about 65 minutes, until toothpick inserted in center comes out clean. Let pan cool on wire rack for 1 hour. Remove cake from pan and let cool completely on rack before slicing.
Cake may be stored in plastic wrap at room temperature for up to 3 days or frozen for up to 3 weeks.