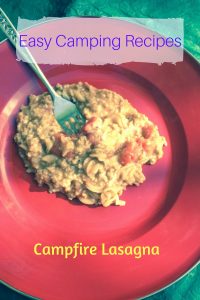 I love camping! There's just something about packing up your stuff and living with only what you've got for a while (either all packed into the car or the camper). It often makes me wonder why we have so much stuff in our houses when we can live happily with so little when camping? I love being outside all the time, not concerned about dishes or cooking as I'm outside; and the kids love it to to. We never run out of things to do, places to see or explore.
Camping is very freeing. Though there's still a rough routine I find there's no strict timelines, the kids play or ride their bikes, go to the playground or we happily all sit around the campfire watching the flames spark and pop and adding our wood as needed. Everyone's always engaged in something, even if we are just sitting there.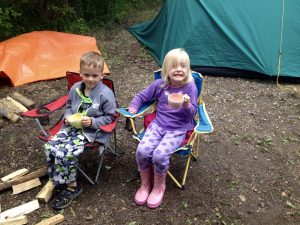 One thing I have found with camping is that the food always tastes good. Maybe it's just our ravenous appetites from being outside and active all day but whatever's on the menu always tastes delicious. That being said we have our favorite camping recipes that we tend to make on a regular basis as I find that they are not only quick but satisfying (and usually contain a lot of meat – though we are not big meat eaters at home). This season though I was feeling that we were having a lot of the same old and though I enjoy our meals when we're camping, I was looking to add a little variety and eager to try out some new recipes. What else we could create enjoy and add to the favorites (creating a little more variety in the menu)?
So as usual I went searching and found some great recipes which I am going to feature here over the next few weeks. From campfire dinners to desserts, there are some great things to choose from.
The first one I found happened to be a recipe I'd had for years in a recipe book from my mother, but had never actually made, in fact I don't know if she has ever made it. I loved that it was a one pot deal, throwing everything in the pot and just waiting for it to cook. This was the essence of easy and I hoped taste.
We tried it out earlier this summer when we went on our camping trip to Vegreville to see the Giant Ukrainian Easter Egg – which is definitely a site to see and worth the stop, if you are ever in Northern Alberta. And it was quite delicious! It was a great mix of flavors and a nice variety in a pasta dish, as opposed to the regular spaghetti and tomato sauce we typically had (not that there's anything wrong with spaghetti!) This offered something yummy and different and got our 'meat requirement' in. Ha ha
This recipe can be made on the stove or over the fire and is literally ready in 30 minutes!
Campfire Lasagna
1 lb. ground chicken (or turkey or beef)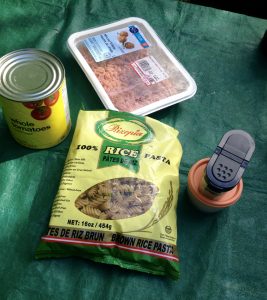 1 tsp. oregano
2 c. spiral macaroni (we use brown rice pasta, gluten free)
1 pkg. onion soup mix *
1 – 796 ml can tomatoes
2 c. water
1/3 c. non-dairy parmesan cheese
1 c. Daiya mozzarella
In a large pot, brown meat. Add onion soup mix, oregano, tomatoes and water. Bring to a boil and stir in macaroni. Cook uncovered, until macaroni is tender. Stir in parmesan cheese and mozzarella.
I often make my own spice mixes as well as I like to avoid the MSG and other preservatives they put into the pre-mixed ones in the store, so I did create my own 'onion soup mix' which turned out to be quite flavorful and definitely did the trick for the desired taste.
*Homemade Onion Soup Mix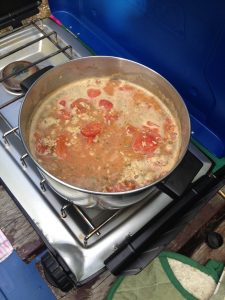 2 1/2 tbsp. dried minced onion
1 tsp. onion powder
1/8 tsp. salt
1/8 tsp. pepper
2 tbsp. homemade chicken boullion mix (or beef boullion if prefered)
Mix all spices together.
This recipe was such a hit that Luke asked for the leftovers the next day for lunch. That's a really good sign.
Do you have a favorite dinner camping recipe? Share it in the comments below so we can try it out.