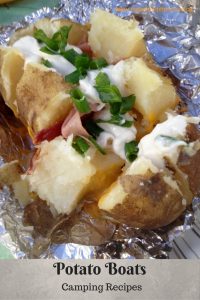 On my hunt for new camping recipes I discovered this neat recipe for potato boats (which honestly is a glorified baked potato but it's still fun). I really liked the idea of the variety it offered and also found it similar to TFD's (tin foil dinners, another favorite camping recipe in our family).
We tried it out potato boats this past week when we were camping in Writing on Stone Provincial Park for my oldest son's birthday (He's 13 now a real teenager in my home – yikes:). It's a beautiful park in a part of the Badlands with magnificient hoodoos along the Milk River. This park is also a sacred landscape that contains the largest concentration of First Nation petroglyphs (rock carvings) and pictographs (rock paintings) on the great plains of North America.
I thought Matthew would really like this recipe and since it was his birthday I let him choose what he wanted to have for supper. When I offered potato boats his eyes lit up and he practically salivated all over me. He even got the fire going so that I could get them started.
They turned out really well and all the kids loved them, Matthew practically inhaling his. They were a little too big though for the twins, in the future I would make one potato and give them each half. I also found it a bit too much for me as the portion was just too large.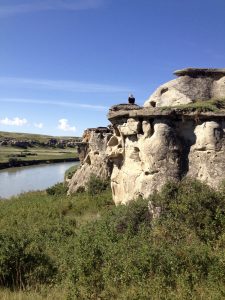 The other downside with this recipe is that you have to bake the potatoes first and pre-cook your bacon. Then slice them put in the cheese, bacon, ham, etc. and then heat. For me, this was too many steps for a camping dinner and took too long. When I am camping I like recipes that are hearty, filling and delicious, but that are also quick and easy. The fact that I had to cook the potatoes and the bacon first and then put them together and cook some more wasn't really appealing to me. But I made them anyway to see how they would turn out. And as I said they were delicious. I can see this recipe being one that would work well at home over the BBQ.
When we were camping, we did them over the fire, which I love because there are less dishes! but the flipside is it did take a little more time. First you have to build your fire and let it burn down to nice hot coals. You do not want flame as this will burn your potatoes. This can take at least an hour or more to get the coals you need, and then at least an hour to bake your potato – great if you're kicking around the campsite.
Potato Boats
(amounts are based on one potato per person and is dairy free – may choose to serve half depending on appetite and age)
1 baking potato
1-2 slices of bacon, cooked
1-2 sliced ham
1 Daiya cheese slice
green onion, chopped for topping
Earth Island's non-dairy sour cream
Wash and prep potatoes for baking. Poke holes with fork all over potato and wrap in single layer of heavy duty foil. Bake potatoes in hot coals of campfire, approx 1 hour, turning once. When potatoes are soft, remove from fire and open foil. Cut 4 slices along the potato, do not cut all the way through to bottom. In each sliced section put in cheese, bacon and ham. Rewrap in foil and place back on coals for about 10 minutes.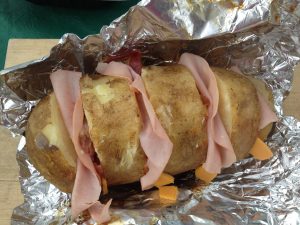 Remove from coals once cheese is melted. Serve with sour cream and green onions on top.
In making these and deciding there were too many steps for me making while camping, I came up with a couple of things that could make this dinner easier and a little bit faster if you don't want to spend two hours making dinner.
If you were having this meal for your first night you could bake the potatoes and cook the bacon at home then simply stuff them and reheat them on the coals of the fire. You would still need to build your fire and get it to coals but then the actual cooking time would be cut almost in half as it would only take about 20 minutes on good coals to heat through.
It is definitely a hearty delicious meal and you could certainly change up what you 'stuff' into the slices. I had planned to serve grilled veggies with it but just ended up serving them raw in the end. You could also serve with a side of fruit if desired.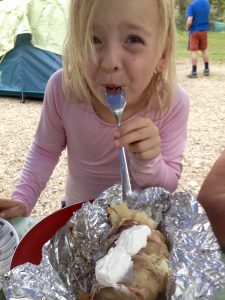 Try it out and share your thoughts in the comments below? Did you stuff it with something else? How did you enjoy it?