Each year on Valentine's Day I make some kind of dessert or special treat for me and the kids. It adds a little something extra to the day and something to look forward to. Usually something chocolate, I like to experiment with new recipes and new ways of doing things. Last year I made chocolate covered strawberries, dipping them in my own homemade chocolate, the year before chocolate cupcakes.
This year I made one of our new favorites Chocolate Dream Pie. This no bake, sugar free, dairy free, gluten free dessert is to die for! Made all in the blender it is delicious (and guilt free). There are a few unique ingredients, which might turn you off at first, but trust me you will not be disappointed.
For instance, irish moss, which is a kind of seaweed gathered on the coast of Prince Edward Island, helps congeal and set your pie. Only a pinch is needed and depending on where you live, may be hard to find. But once you know what you are looking for you can track it down, even if you order it online. I was able to find it here locally in Calgary at the Light Cellar.
My kids love it, of course. Matthew's eyes get big and he starts to salivate. Luke and Chloe who had their first piece, and when done, promptly asked for a second piece. I also shared it with my girlfriend today who not only asked me for the recipe, but regretted sharing it with her son (who also loved it) because she wanted more for herself 🙂
Quick and easy to make, this recipe won't disappoint.
Chocolate Dream Pie
Crust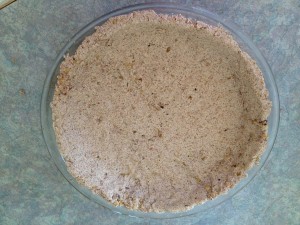 1 c. hazelnut mash (from making nut milk)
1 c. walnuts
3-4 tbsp. agave nectar (I like to use Ojio as it is a higher quality agave)
1/4 tsp. vanilla
Filling
3/4 oz. irish moss (soak a small pinch of irish moss in water overnight, rinse well and use in recipe)
1 1/2 c. hazelnut milk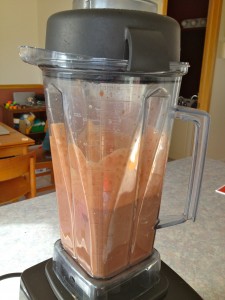 1/4 c. agave nectar
1/4 pitted dates
1/3 c. cacao powder
1/2 tsp. vanilla powder
pinch sea salt
1 rounded tsp. non-GMO lecithin
3/4 c. coconut oil
For crust: Make the *nut milk and use the leftover mash for making the crust. Put all the ingredients into the Vitamix in order listed. Select variable 8. Quickly turn machine on and off, scraping the sides of the container with a spatula between pulses, until a damp meal is formed.
Grease a 9 inch pie plate lightly with coconut oil. Press the crust into the pie plate.
For filling: Place all ingredients in Vitamix in order listed. Select varaible 1. Turn Vitamix on slowly and increase speed to 10, then to high. Blend 30-40 seconds or until desired consistency is reached.
Pour into prepared crust. Place in fridge until set (about 1 hour).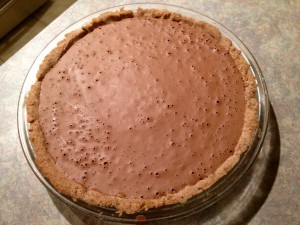 *Hazelnut milk
Place 1 cup of hazelnuts, soaked overnight and drained, with 3 cups of water in Vitamix. Selecting variable 1, turn machine on slowly increasing speed to 10 and then to high. Blend for 30 seconds.
Over top of a medium size bowl, pour contents form Vitamix into nut bag. Strain through nut bag. Use milk and mash for recipe. Store leftover milk in fridge.