While having all the kids at home over the Christmas holidays I discovered that my kids will eat pretty much anything, that they are not fussy eaters. I also discovered that whatever I put in front of them they ate. So even with the surplus of yummy sweet treats around, if I put  fruit or vegetables in front of them that is what they would eat. Not that they did not ask for the sweet treats mind you, I did too at some points. But I noticed that when I was prepping a veggie tray and Matthew came wandering by, he would pick up a carrot or celery stick and start eating – without being asked! – and then he would come back for more. I felt I was onto something…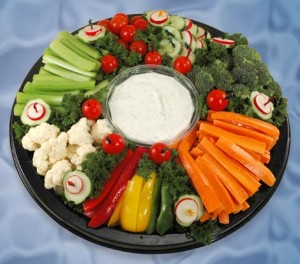 Now my kids will eat their fruit and veggies regardless if there is a dip to go with it or not. Which is great because sometimes when I am running out of time, the dip is the thing that does not get done! But they and I do enjoy a yummy dip to go with it. In fact, often Chloe will eat only the dip, which I know defeats the purpose, but the dips I provide have good stuff in them too so it is ok. Sometimes though I do use it as a bargaining tool, "more dip if you eat your carrot stick", not always the best tactic in getting kids to eat I know, but I think you would agree that we all do it to some degree.
So today I am sharing you with some of my favorite dips that are great with a variety of things, fruit, veggies, fish even, depending on the dip. (My sister made a fabulous dinner at Christmas of fish and chips and I could not get enough of dipping my fish in the Peppery Dip, it was delicious!)
Dill Dip – great with veggies and/ or tortilla chips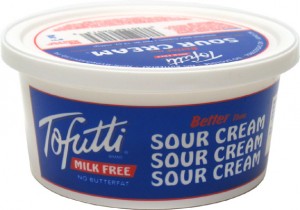 1/3 c. veganaise
1 tsp. parsley flakes
1/2 tsp. dill weed
1/8 tsp. onion powder
1/16 tsp. celery salt
1/16 tsp. salt
Mix all ingredients in a small bowl. Serve immediately or chill until ready to use.
Recipe can easily be doubled. Makes about 1/2 c. dip
Peppery Dip
1 c. veganaise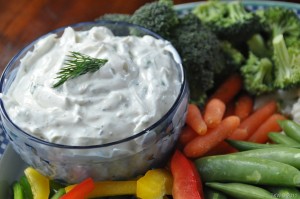 2 tbsp. grated onion
2 tsp. tarragon vinegar (can use regular vinegar and tarragon seasoning)
2 tbsp. chopped chives
2 tbsp. chili sauce
1/2 tsp. curry powder
1/2 tsp. salt
1/4 tsp. pepper
1/8 tsp. thyme
Mix all ingredients together. Serve with veggies, also great with fish!
With fruit I use this homemade caramel sauce that is made from dates. It is especially good with apples, but goes with any fruit well. All the dips will keep in the fridge for at least a few days, so make ahead of time or keep until later -that's if you have any left 🙂
Enjoy and happy dipping!
*when I first started making dairy free dips I used Tofutti sour cream and cream cheese, a soy based product. I discovered that they use sugar in their product and since then have moved to using Earth Island, which has no sugar and I feel is a better product in general. Both work well and is up to you as the cook which one you'd like to choose – or maybe you have another favorite vegan sour cream 🙂