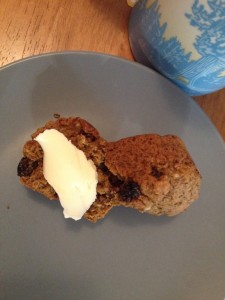 I have always been a fan of muffins. They are a great grab and go snack that will fill your tummy and give you some good nutrition. They are also a fantastic make ahead and freeze for later option as well – something you can quickly grab out of the freezer to add to lunches, road trips or just a quick snack.
I have been dabbling more and more with gluten free recipes as I have noticed that my body does not seem to tolerate it like it used to. Often feeling tired after bread, muffins or anything wheat based, I have been slowly expanding and experimenting with my recipes. I was a little worried about changing my muffins though, as I had found many gluten free muffins to taste grainy or gritty and certainly not to my liking. But I knew that they couldn't all be that way and that if it was the difference between energy boost and energy drain then I had to give it a whirl. So I started experimenting…
I am a big fan of bran muffins and have been since I was little. I know most people don't care for bran muffins, more like a love it or hate it relationship, but for whatever reason I really enjoyed them. And it wasn't just because of the benefits of bran! They were yummy. So it was only natural that one of the first muffin recipes I converted would be a bran one.
I found the original gluten free bran muffins recipe online and loved the addition of hemp seeds for the added nutrition. I also liked that I could create my own gluten free flour as all brands are not created equal, and this way I could choose what went into my mix. A quick modification for the sugar and the dairy I had the perfect recipe, which my boyfriend at the time, loved and he was not a gluten free guy. In fact to this day they are still his favorite muffin that I make.
The kids love them to, though they tend to like banana more, but they will eat them without complaint and I love the hemp seeds and flax added in there.
Gluten Free Bran Muffins with Raisins & Hemp Seeds
1/2 c. ground flax seed
1/2 c. rice bran
1 c. almond milk (unsweetened coconut milk or other non dairy milk of choice)
1/3 c. olive oil
1 large egg
2/3 c. coconut sugar
1/2 tsp. vanilla
1 c. all-purpose gluten-free flour (*easy to make your own gluten free flour mix)
1 tsp. xanthan gum
1 tsp. baking soda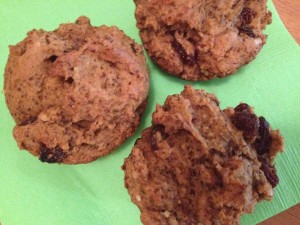 1 tsp. baking powder
1/2 tsp. sea salt
2 tbsp. hemp seeds
1/2 c. raisins (I like lots of raisins so I add another 1/4 c. but you don't have to)
In a medium bowl mix together flax seed, rice bran and almond milk. Let sit for 10 minutes while you get everything else ready.
Next, in a large bowl combine gluten free flour, xanthan gum, baking soda, baking powder, sea salt and hemp seeds.
In a different medium bowl, beat together the oil, egg, coconut sugar and vanilla. Add the ingredients from the first medium bowl (almond milk/ flax seed mixture) to the egg mixture and stir well.
Stir the almond milk mixture into the dry ingredients until just blended. Fold in the raisins.
Spoon batter by the teaspoon into greased muffin tin or line with cupcake liners. Bake at 375 F for 15-20 minutes or until toothpick comes out clean. Let cool 5 minutes then remove muffins from muffin tin to allow cool completely.
Store in an airtight container or freeze for easy quick grab and go healthy snacks.
* I found this combination for your own gluten free flour mix online. I make a batch and store in an airtight container so it's on hand when I need it.
Gluten Free Flour Mix
4 c. superfine brown rice flour
1 1/3 c. potato starch (not flour, they are different)
2/3 c. tapioca starch