Last week was a very stressful week. For whatever reason, because honestly I am not sure why, I felt like I couldn't get anything accomplished, I felt rushed and like the things I enjoyed were being pushed to the side in trying to get everything else done. It was crazy!
I was so wound up by the end of the week I was melting down on Friday, trying to finish up some writing and clean the house, so I could go out and have some much needed 'me' time by going out. And the place I wanted to go I knew would help me.
I was heading to a Community Drum Circle, a beautiful place, where you let go of your stress and commitments for 2 hours, letting the world melt away as you bang on the drum. You may go in feeling lost and angry, but you come out feeling relieved, revived and energized!
This was my second time attending the circle, as I had attended with my Mum, son and friend back in early September. We all loved it! I had been to other drumming experiences before but this one was absolutely phenonmenal! The power, the energy and the sense of community that exists within this circle was absolutely amazing. Everyone is accepted, everyone is there for you, everyone is banging on that drum and having the time of their life!

Judy Atkinson, facilitates the evening, and brings such joy, energy and enthusiasm to the circle. No one feels self conscious or left out, no one feels like they have to or are being judged, we are all just there to drum and let go.
Not only is this experience so much fun, it also has so many health benefits, as drumming resonates through every cell in your body, therefore assisting you in releasing negativity, emotions or stress, anger. It helps you to remove any blocks, healing and deeply relaxing us.
It also puts us in the now, the present moment, something which many of us are not; often thinking about what's next, or reviewing something we did in the past. It connects us with ourselves, permeating the whole brain increasing our Alpha brainwaves, creating feelings of euphoria and happiness.

It is a fantastic night and a great stress release! It is also a wonderful activity for the whole family. Kids love it and get right into it as well, sharing in the experience.
Worried about not having a drum? The drums are provided and there are a few different kinds to choose from, and you can mix it up throughout the evening.
A word of caution though, with this kind of experience you can experience a type of 'release' afterwards (which is actually good). This can manifest in a number of ways, physically or emotionally – so you may feel very emotional the next day, experiencing strong emotions such as anger or sadness, or you may actually feel physically ill, feeling sick to your stomach, nauseas or an ache in the body. The good news is is this is your body's way of releasing what you have moved in the drumming circle and it is moving it out! Releasing those toxins you no longer need, things that no longer serve you. And the more regularly you attend the less extreme these releases will be.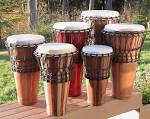 I felt like crap going into the circle on Friday night, I was angry, frustrated and lost. I was crying before I even got in there. We got our drums and sat down and I half heartedly started drumming, but I couldn't resist the energy, the rhythm and banging of the other drums and before I knew it, I was in there giving it my all, smiling and laughing just like the everyone else. By the time we went home I was tired, but I felt much better, optimistic, relieved and ready to take on a new day. And I plan on going next week. It may seem odd to give up your Friday night to go and drum but the benefits are worth it. And I don't look at it as giving up my Friday because regardless of how my week goes, I know that there is this little light at the end of the tunnel, a warm loving community waiting for me, and a beautiful experience of growth and connectedness that I need to have and to share with you.
Come out to Judy's Community Circle on Fridays at the Inglewood Community Hall in Calgary. It's so worth it! See you there!