Last week Luke and Chloe had their first dental appointment.  They were quite excited (unlike most adults I know, including me) about going to the dentist, as they had gone many times before when Matthew or I had appointments – so they were familiar with what it was and what happened there.
We see Dr. Evans at Evans Dental Health, a holistic dentist, having switched over to his office a couple of years ago. Dr. Evans is a mercury and fluoride free office and believes that the health of your mouth and teeth are directly related to your overall health. So things like nutrition, supplements and detoxification are available/ discussed in this office.
The staff were great, smiling and friendly from the moment we arrived, the dental hygienists getting down to their level and interacting with them. Luke and Chloe are very go with the flow and fairly adaptable kids, but Luke still turned to me when the hygienist invited them to come with her, and asked me to come along. It's nice to know as a parent that they still need you.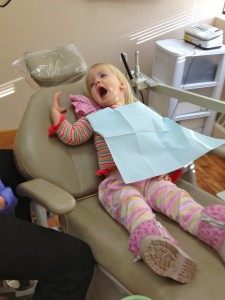 Chloe was the first to go and hopped up into the dental chair. The hygienist, Holly, explained everything to her as she went along, starting right from the bib that they got to use right down to the dental tools. She explained everything in a fun and engaging way for a child. Chloe was very interested in what she was saying and not only followed direction but already had her mouth open ready for Holly to look at her teeth.
Luke went next door with his hygienist, Salena and had a very similar experience with her explaining things to him as she went and engaging him the whole time. Luke also opened his mouth and kept it open, looking like a little bird, waiting for her to check his teeth.
A child's first visit to the dentist is a very short visit, with a couple of basic things happening. The appointment is simply to get the child comfortable with the experience and learning what to expect. They tell the kids what's going on, explaining everything as they go, then they count how many teeth they have, give them a quick polish, if the child lets them, then the dentist comes and takes a peek. That's it, fairly quick and definitely painless.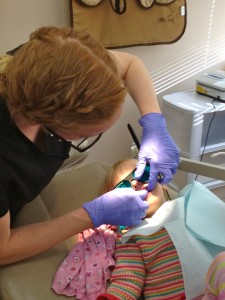 Most dentists recommend that your child start coming to the dentist as early as 1 year old or within 6 months of their first tooth coming in. When I asked our dentist they said at about 3 years old – which makes more sense to me. I think as a parent knowing the recommended guidelines, you can decide when is the best time to take your child.
At the end of the appointment both Luke and Chloe got little bags of goodies that contained a new Firefly toothbrush and some flossers. Luke got a whole container of dental floss, which unfortunately was completely unraveled by the time we got home. And they also got a trip to the 'treasure chest', which I loved going to when I was a kid and went to the dentist, it was the best part! They chose mini lip balms, which were also destroyed and well used by the time we got home. Chloe just kept putting it on her lips (and it also ended up all over her face). Luke just played with it after one application and I found it in pieces on the floor of the van.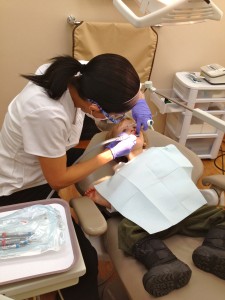 Overall though they had a wonderful, positive experience and were very excited to tell Daddy what they did that day.
If it's time for your child to take their first trip to the dentist here are some more tips to make their first experience a positive one:
Pick a caring, friendly dentist that makes your child's first visit a special ocassion
If there is an opportunity, prior to your child's first visit, let them observe a family member during an appointment. This will help them become familiar with what happens.
Avoid instilling anxiety in the child just tell them they are going to the dentist and leave it at that.
Select an appointment time that is best for the child, usually for young children first thing in the morning is best.
If you can create a first positive experience for your child it will make future trips to the dentist positive ones as well. Even as an adult I don't enjoy going to the dentist, it's because I have to hold my mouth open so long and the sound of the drill really gets to me. (If I didn't have to hear that sound it might be ok) so the more you can do for your kids to make the dentist a positive experience the better. Both Luke and Chloe had a 'good time' and I know I will have no problem when it is time to go again.
Dr. Evans does a Candy Buy Back each year at Halloween, where he gives $1/ lb of candy to the kids. We go each year and I think it's a fabulous idea. Go to his website to find out more.