For the past week in Calgary we have been experiencing the best winter weather has to offer. Snowstorms, blizzards, blustery winds and freezing cold. High snow drifts that take hours and a lot of brawn to shovel. We've experienced long commutes to work, traffic jams and slippery road conditions.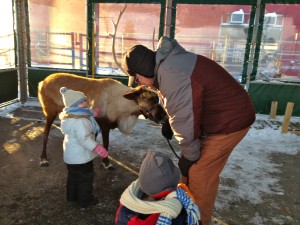 Yet in the midst of all this is Christmas. Shopping, festivities and all kinds of family fun activities to go and do. This past weekend especially there was lots of fun things going on and when I heard the weather forecast I was saddened by the things we would likely miss. Yet….
On Friday I decided to bundle the kids up and head out to see the reindeer at the Kingsland Farmers Market, it was only -23. And on Saturday when it was -30 C I decided to bundle them up again and take them out to Christmas at the Hive in Okotoks at the Chinook Honey Company. Then we came home and had lunch and quiet time, and then yes I was likely crazy or simply had brain freeze by this time, bundled up one more time and went to the CP Holiday Train arriving at Anderson station (by now it was only -18 C so really significantly warmer).
All in all it worked out well. We used buildings and indoor options when we could, mixing up being outside with being inside. It turned out the reindeer were outside but you could wait inside to go and see them. The honey farm you could go in and out of the store as well as the Discovery Center and the sun was out! Which I find can make all the difference.
By the time we got to the train which was all outside, we managed to stay for an hour and a half before it was just too cold and uncomfortable to stay any longer.
Now you might think I am a crazy person for taking my kids out when it was that cold. But when I was growing up I learned that weather is, and you can't change it; so are you going to miss an opportunity and let the weather dictate what you do or are you going to get out there and enjoy it? Of course it is important to be smart and sometimes it is the right decision to choose not to go. In this case though it was doable and we were able to make it a comfortable and enjoyable experience for everyone.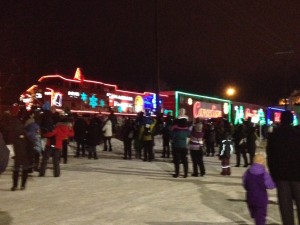 We dressed warmly, layering from long underwear, wool sweaters and snow pants. We brought warm drinks and snacks to share. In fact to the train we even brought some soup in a thermos. I was surprised by how many people I heard around us saying "Oh they brought soup" and commenting on how good it smelled and how they would like some.
We also knew when to leave, we didn't try to make the kids last a little longer or do just one more thing. When we started to see signs that the cold was making us unhappy we were thankful for our experience and headed for the car. Even though I would have loved to have stayed longer and listen to Sarah McLachlan.
Life is what you make it. Now we have pictures and memories and Luke already asking to go back to the Christmas Train. And when we got home we put on the fire, sat on the couch and cuddled, while enjoying snacks and hot apple cider. Everyone happy and chatting away about the evening.
Now I know for some it is really challenging to go out in certain types of weather and of course we all need to do what is best for us. But if you're prepared and have the right attitude you don't always have to choose to stay home.
PS Now on Sunday I was quite happy to stay home and not go anywhere….but I was glad we did all those things this weekend. I wouldn't trade it for the world.