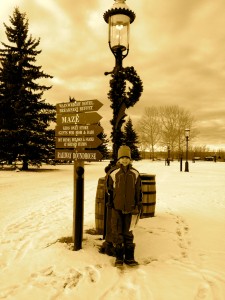 One of the things that I love about Christmas is all the activities and events that surround the holiday. There are craft fairs, carol sings, Christmas parties and many community events that you can choose to participate in to celebrate the season. There is something for everyone, depending on what you like to do.
One of my favorite events is Heritage Park's Once Upon a Christmas, that runs every weekend starting late November for the 4 weeks prior to Christmas. This is a wonderful family event that includes all kinds of activities for kids and adults alike. They offer kids crafts, visits with Santa, carolers, plays, wagon rides, mazes and a 'Kids Only' Store where parents are not allowed to enter with their children. This year they added firepits placed throughout the park, which are great places to cozy up and have a chat and warm up by the fire.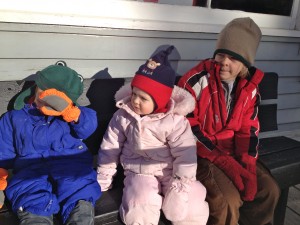 There is so much to do there that it is easy to spend the day. The challenge is that most of it is outside so you have to be to dress for the weather and be prepared to be outside. So for me I always choose a mild weekend to go with the kids. It is much more enjoyable for everyone and we can stay longer and enjoy what the park has to offer.
As this turned out to be a mild weekend, I decided to pack up the kids Sunday morning and head out. Though it was a bit of a challenge to get us all out the door (and I would have prefered to have left half an hour earlier than we did), we made it there with a packed lunch, hot chocolate and gingerbread cookies, dressed and ready to go.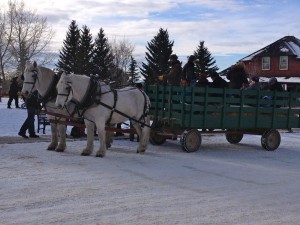 Luke and Chloe love Heritage Park so I had no trouble convincing them to go, in fact they chatted about it the day before hoping to see the "choo choo train", which only runs in the summertime, but I told them we would 'check'. Matthew enjoys the park as well and though he had mixed feelings about going easily went out the door.
I always hit the wagon rides first, as the line for that tends to get long as the day goes on. Plus Chloe loves horseys, so was looking forward to it. Chloe was beaming and smiling and pointing things out, while Luke was just taking it all in.
We ventured to the kids crafts where Matthew made a clothespin reindeer and Luke and Chloe made little puppets out of old Christmas cards and popsicle sticks. This area is really well set up, as there is a selection of craft 'kits' that the kids can choose from to make their craft and there are lots of volunteers on hand to help the kids out. For the younger children they have coloring sheets and the puppets as options.
Matthew really wanted to hit the Kids Only Store as he went for the first time last year and really enjoyed the freedom of shopping on his own and spending some money 🙂 We also saw Santa and went to the petting zoo.
The highlight for me though was definitely the Christmas Model Railway, housed in the pool hall. It is one of those as soon as you walk in you go "Wow"; as it really is a Christmas wonderland. There are at least 3 or 4 trains going around this beautiful Christmas scene, villages and houses, lights and trees. I love it because I have always loved trains, and the magical Christmas scenes. I have no idea why I love trains so much, but I think they are cool, especially the model railways that go around and around all by themselves. Which is interesting cause that's all it does is go around and around- but I could watch it for hours. The railway was really well done; on loan from some private collectors, it was a beautiful site.
We chowed down on peanut butter sandwiches and carrot sticks on a bench outside Gunn's Dairy Barn and enjoyed homemade hot chocolate, made with fresh almond milk (very easy to make your own), cacao, and spices, as well as homemade gingerbread cookies (sugar and dairy free of course). It was a bright sunny day with clear blue skies, a perfect wintery day, with the air of Christmas all around.
After walking and exploring we headed home, tired but satiated and satisfied with our Christmas adventures. Who knows where we'll go next?