I love peanut butter cookies! They are so tender and moist and they melt in your mouth. They are definitely one of my favorite cookies but I hadn't made them for a while as I hadn't figured out how to adjust the recipe without sugar in them.
My mother, bless her, since we have chosen to go sugar free, has been experimenting in her kitchen so that she could make treats for the kids when we come to visit. She has adjusted many of our favorite recipes so that we can still enjoy them. She was the one who figured out how to successfully make peanut butter cookies with no sugar. In her first attempt she substituted date sugar, which she found did not work so well as the cookies were dry ad crumbly. Her next attempt proved successful as she uses a combination of coconut sugar and agave nectar, which make a sweet, soft cookie, that literally does melt in your mouth. Luke and Chloe love her peanut butter cookies!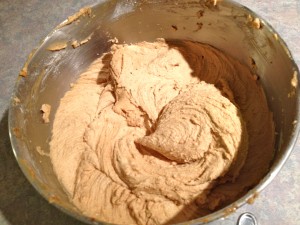 I had been craving them myself for a while so I whipped up a batch last night using my mother's recipe. I was literally drooling over the batter, my mouth watering as I mixed it up (cause the next best thing to freshly baked peanut butter cookie is peanut butter cookie dough!)
I did resist eating all the dough and baked 5 dozen cookies. Some plain and some with sugar free jam, I make my own, in the middle (I love those best, they are even more soft and moist, peach jam is my favorite).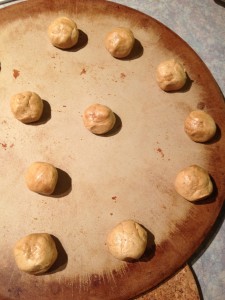 Matthew even came down after going to sleep as he smelled the cookies baking, the sweet smells wafting up the stairs. (I get an image like in one of those cartoons with the person asleep being 'carried' down the stairs along the wafting smell to the kitchen). This morning the twins saw them (even though I thought I had cleverly tucked them out of sight) and wanted some right away. It did not go so well when I said no that we would have some later.
As soon as Luke and Chloe were up from their naps they were asking for cookies. And when Matthew came in the door afterschool and saw a pear on the counter wondered aloud why he wasn't getting any cookies. (The deal was to eat our pear and then have cookies). We dove in. Ok we had 2 each, though I could have easily eaten 5 or 6, and I am sure the kids would have too. In fact Chloe came bouncing into the kitchen looking for more and when I told her that was it and that she had 2 already she said, "No I didn't" with the most innocent look on her face. I laughed out loud! How early they start with those things 🙂
I am sure over the next few days there will be many requests for cookies and I am sure I will indulge as well. In fact I am resisting right now going over to the container and popping 1 or 2 into my mouth… The nice thing is is they do not contain sugar so the kids will not get the adrenaline spike related to it and it is something sweet for them to enjoy. They will also eventually run out, but I can always make more! and might do so 🙂
Peanut Butter Cookies
1c. Earth Balance Vegan Spread
1 c. coconut sugar
1/2 c. agave nectar
2 eggs, slightly beaten
1 c. unsweetened peanut butter
2 tsp. vanilla
2 1/2 c. flour
1/2 tsp. baking soda
1 tsp. baking powder
Cream Earth Balance. Add coconut sugar, agave nectar and eggs. Add peanut butter and vanilla. Mix in flour, baking powder and baking soda until well mixed and mixture is light and fluffy.
Scoop by the teaspoon and roll into a ball. Place ball on cookie sheet. With a fork press down once gently – dip fork in water so fork does not stick to dough.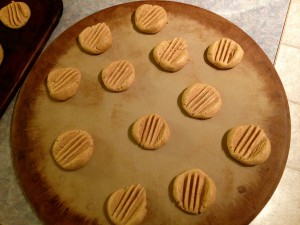 Variation: may add a small amount of jam (any flavor you like) in middle of cookie. To do this form ball as above, with finger and press down in the middle of ball. Add small amount of jam in impression. We use sugar free jam that is sweetened with honey.
Bake at 350 F for 10-12 minutes.
Makes 5 dozen cookies.