One of the things that I discovered while traveling with 3 kids is that the pace of things is much different than with one child, or for that matter just adults. You do not get to see as much as you would like in one day as there are smaller legs to walk on, more pee breaks and more frequent stops for food or snacks. You also have to remember that even though you may want to see 5 different museums in a day, though you can successfully engage the kids in one, further engaging them in another could be quite the challenge.
It is important to slow things down a little and do some 'kid stuff' not only for the sake of the children but for your sanity as well. Let them play and run off some steam and be kids. This does not mean that you have to give up seeing the one part of the city you really wanted to see. It just means you may experience it differently.
One area in Sydney we did this (and is definitely worth touring) was Darling Harbour. Home to the Powerhouse Museum, the Chinese Garden of Friendship, the Imax, National Maritime Museum and Sydney Sea Life Aquarium to name a few. Yet this time around, we decided to go for the kids and experience it 'their way'.
Hence, my friend Dana recommended we go and check out the playground there, as she said it was a fabulous place for kids. She described the different water games, slides, and swings that were down there and explained how massive it was. Though I thought, well ok it's a playground, I was intrigued, so decided that we should go and check it out.
I have to say I was super impressed. A definite 'must do' for all families, this spectacular playground features an array of activities that promotes learning and imagination for all ages. The Darling Quarter Kids Playground as it is called, is absolutely amazing and definitely not one to be missed. The range and variety of activities, engages kids of all ages, and will keep them entertained for hours! From the huge Octanet, giant slide and flying fox, to the swings, supernova and waterworks, there is something for every age and ability.
As soon as we arrived the kids were off like a shot. The challenge was the 3 of them were off running in different directions. Matthew I knew could hold his own and would check in periodically, but it was the twins exploring new skills that had me running around trying to make sure they were safe and in sight.
They were definitely expanding their comfort zone that afternoon, as both Luke and Chloe really enjoyed the giant slide and were going up and down over and over. To go up, they had to climb up the 'climbing wall' at the back of the slide, with a rope to aid them; then they slide down. It wasn't the slide that concerned me, but the 3 metre high 'climbing wall' to get there. I felt it was a little high for my four year olds and was a nervous about them climbing up. You know with their attitude of being untouchable and all. I was proud and freaked out at the same time as they very agilely went up to the top.
To be honest I was not worried about them climbing up but more about them falling down. I guess this is one of the lessons a parent must learn in letting go and trusting in their children.
The slide itself, was super fast and 8 metres long. Well super fast for an adult, probably about the right speed for a little person (yes I did go down it once, then decided that it was much too fast for me and I would just supervise the climbing).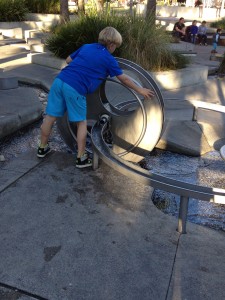 Matthew really enjoyed exploring the different water works such as the water scoop and water screw and also successfully climbed up to the very top of the Octanet – at 10 metres high, giving me a heart attack, as I calmly congratulated him when he called "Mum, look at me!" and then asked him, very calmly to come down.
There are also sand diggers and smaller slides, plus swings of all sizes. All 3 of them enjoyed the giant ring, which is like a huge tire swing but with room for a lot more kids and swings a lot wider. The flying fox was the one that really impressed me, similar to a small zip line, but one that kids can easily navigate themselves and is not too far off the ground. Even I wanted to go on that one!
The playground is well set up and laid out, with an area for shade on hotter days and bathrooms right there. The promenade adjacent to the playground is lined with a variety of cafes and restuarants for those adults who require coffee or refreshment as you monitor the children at play.
The best part of all is it's free! And a wonderful opportunity to enjoy this area of the Sydney Harbour while the kids are fully entertained! Whether you stay for an hour or the entire afternoon, adults and children alike will be engaged the entire time.
Unfortunately, we only stayed for about an hour ourselves that day as we had spent the morning down at Bondi Beach and needed to head back for supper after a full day of activities. But it was definitely worth the trip down to have the experience. Both Luke and Chloe still talk about the giant slide and is one of the many things that they ask to go back to and do again and again.
What fantastic or unique kids playgrounds have you found in your travels? whether local or abroad?