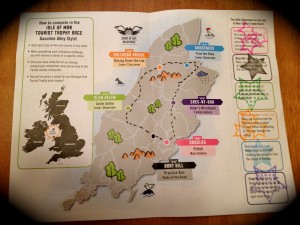 I always love a trip to Heritage Park and this weekend was no exception. I was excited to check out Spring Rally in the Alley an event that I discovered while researching free activities for March Break. It sounded so cool and I couldn't wait to take the kids and find out what it was all about.
Spring Rally in the Alley runs from March 18-28 and has a variety of activities for kids 3-12. The thing that I love about this is the activities are not just a random bunch of activities they have a theme that connects them! Yes I said I theme and I love a good theme. The Rally is set up around the Isle of Man Tourist Trophy Race, which is a real international motorcycle race that happens annually in May or June around the Isle of Man. Apparently, it is a super popular race that lasts two weeks and people who want to participate have to register 3 years in advance!
This made the Spring Rally in the Alley even more exciting. When you enter, you receive a Milestone Challenge list, which is a passport with all the activities listed on it. You complete the activities in random order and once completed you receive a different colored stamp. Once you complete all the activities or challenges and get your stamps, you come back to the front to receive a ballot to be entered for the Isle of Man prize basket.
Now I am a person who loves going from station to station and collecting my stamps. And what a great way to engage the kids because they wanted all the stamps too! It encourages you to go to every activity and at least check it out. And for me personally, it made me do the "Find the Ride" Scavenger Hunt where you had to answer trivia questions, which I wasn't really in the mood to do, but I wanted that stamp!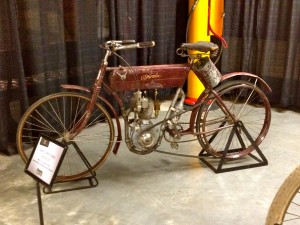 I thought the activities were very well put together, with something of interest for everyone (even my 12 year old enjoyed the remote control cars, selfie and scavenger hunt). There were crafts, where you made your own Rider's Wristband, Practice Run, where you get to drive a remote control car, and my favorite the Cycle Selfie, where you can dress up in leathers and sit on a 1975 Ducati 860GT for a photo!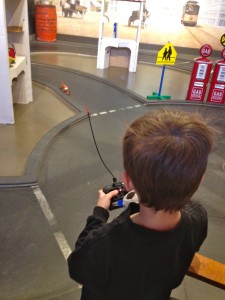 Chloe loved Racing Down the Isle, where you race a tricycle and learn a little trivia about the actual Isle of Man race. Even after she finished her trivia she kept riding around and around on her trike. We went back to the remote control cars twice as well as the Hill Climb, where you try and get your motorcycle up the hill and just on the edge, before it falls over the cliff.
The bonus to all this? Is Reflections in Chrome – A Motorcycle Retrospective, a temporary exhibit "that sheds a little light and insight on our love affair with these two-wheelers", is also part of the package. Entrance to Spring Rally in the Alley also gains you entrance to these motorcycles! Featuring 40 bikes from the Canadian Vintage Motorcycle Group. And wow, I love motorcycles, so it was super cool to see the evolution of this vehicle, as well as all the shiny new ones.
Though regular winter admission rates apply to Gasoline Alley, Spring Rally in the Alley is an event I would highly recommend for the family this weekend. Kids and adults alike will become quickly engaged and excited about what this event has to offer. And even if you don't make it out this weekend, Reflections in Chrome goes until April 24th and is definitely worth the visit! (Where you can still have your photo op on the Ducati- because seriously that is super fun)