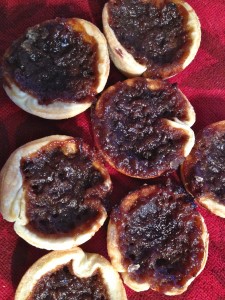 I received a little inspiration the other day from my sister. She was making pies and butter tarts asking for advice and how to's as it had been a while since she had made them. Of course I helped her and gave her lots of tips.
She sent me photos of her and the girls (my nieces) creations and it made me a little jealous. I love butter tarts, they are definitely one of my favorites and I hadn't had one in years! They are so sweet and delectable, nice flaky pastry and yummy sugary sweetness as it melts in your mouth.
Why though hadn't I made these in so long? I mean pastry challenges aside (I never enjoyed rolling them out and cutting small circles, found it finicky), there was really no reason why I could not make these things. Yes we have chosen to eliminate dairy and sugar from our diets but why had I not adjusted this recipe? I hadn't even looked at the recipe to see if it could be!
With mouth watering I decided to least attempt it. I mean what was the worst that could happen, I'd end up with a batch that didn't taste so good and might have to put in the garbage? But if it meant I might be successful and enjoy butter tarts once again 🙂
So I pulled out the recipe and took a peek. I balked at myself for having left this for so long. This transformation was going to be super easy! It was a simple substitution of Earth Balance, coconut sugar and coconut milk and voila! it was done.
I waited in anticipation as they baked, hoping that I was right and they would turn out. Once they were out I did my best to let them cool at least a little, before I tasted one. Omg! it was absolutely delicious and honestly I could not tell the difference between this one and  the original recipe. Perfect!
I then shared the butter tarts with the kids who loved them and gobbled them up, quickly asking for more. Of course I love these so much I could easily gobble two or three at once, but I resisted, knowing perhaps I could have one for breakfast tomorrow…
And now I am going to share them with you. This is a dairy free sugar free butter tart recipe that you can enjoy without the guilt and really will not notice the difference or compromise on taste.
Butter Tarts
1/3 c. Earth Balance Vegan Spread, melted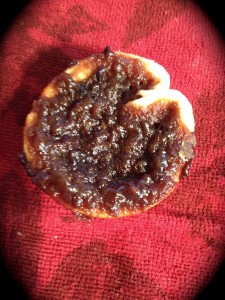 1 c. coconut sugar
2 tbsp. coconut milk (full fat canned coconut milk is best)
1 egg, beaten
1 tsp. vanilla
1/2 c. currants
Make pastry as per directions. (I use Tenderflake and follow their recipe on the back) Roll out pastry to desired thickness (usually between 1/4 to 1/8 inch depending on preference) and cut into 4″ circles. Place pastry circles in prepared muffin tin. (*If tin is not non stick I would highly recommend greasing each opening lightly with Earth Balance. There is nothing more annoying then being unable to get your tart out of the pan without it breaking!)
Combine all filling ingredients in a medium bowl. Fill each pastry circle about 2/3 full. Do not over fill as filling bubbles up when baking and can overflow. Bake at 450F for 8 minutes, then reduce oven temperature to 350F and bake until pastry is lightly browned, no longer than 5 more minutes. Remove from oven and let cool.
*Tip – if you're filling did overflow while baking it is a good idea to gently run a knife around the edge of the tart before it completely cools. This prevents the filling from hardening and sticking, making it difficult to get the tarts out of the pan once completely cooled.
Makes 12 medium sized tarts
Enjoy! (Now I'm going to make some more… writing this post has definitely started my mouth watering)