I absolutely love board games! Growing up we played them all the time and had all kinds of them. From the traditional Monopoly to the unique and complicated Shadowlord, we would play board games for hours. My parents played with us to, especially my Mom, who still loves playing to this day.
Each year for Christmas we would get a new game. It was the family gift from Mom and we would wait in anticipation for what would come from under the tree. The challenge was of course as we got older, finding a game that we didn't already have! But somehow Mom would find one and most of them were pretty good (cause some of them were not, though honestly I could not tell you the names).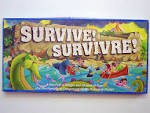 I have endeavored to continue the tradition with my kids, each year seeking out what's new and hot, or faulting to some of the classics (cause yes all the games are still at my Mom's house, so we have to buy our own. Which is totally ok cause then we have lots to play when we visit her). I have noticed over the years some of our favorites when growing up, are no longer available or have changed; like Survive (no longer available and not to be confused with Survivor), Pay Day (we really like the old version best) and Careers (also no longer available, but we loved!)
As a result my kids also enjoy board games, for which I am grateful, cause they will play with me! I also know that board games offer lots of learning in a fun way, like introducing colors and counting in Candy Land Board or strategies in games Settlers of Catan

as well as the basic concept of winning and losing and good sportsmanship.
I was very excited this year to find out what was new and hot in board games this year and discovered some great games. Some we already have but some we do not. Now the question is which one to buy for under the tree?
Hottest Games this Christmas
Settlers of Catan – hot and the current favorite in our house, Settlers is a strategy game, where players are trading and building in the mythical world of Catan. Dice is rolled to earn resources in which to build settlements, cities and roads and earn victory points. With the game board changing each time you play (and expansion sets to grow your game) you will never tire of this game.
Ticket To Ride – October 2, 1900 – it's 28 years to the day that noted London eccentric, Phileas Fogg accepted and then won a bet that he could travel "Around the World in 80 Days." Now, at the dawn of the century, some old friends have gathered to celebrate Fogg's impetuous and lucrative gamble – and to propose a new wager of their own. The stakes: $1 million in a winner-takes-all competition. The objective: to see the most cities in North America – in just 7 days. Ticket to Ride is a cross-country train adventure game. Players collect train cards that enable them to claim railway routes connecting cities throughout North America. The longer the routes, the more points they earn. Additional points come to those who can fulfill their Destination Tickets by connecting two distant cities, and to the player who builds the longest continuous railway.
7 Wonders – 7 Wonders is a game that lasts 3 ages. In each age players receive cards from a particular deck. Cards are played simultaneously in each age to pay or collect resources as needed. Each card has different strengths and advantages making it important to pay attention to your neighbor. This strategic card playing game will engage ages young and old alike.
Classics

Jenga – I still remember the commercial for this game when growing up. "Take a block from the bottom and put it on top, take a block from the middle and put it on top. Jenga, Jenga, j-j-j jenga". This classic block stacking game, challenges each player to build and then take turns removing blocks without the stack crashing.
Twister – A great fun family game, this is the game that ties you up in knots. Using the spinner each player has to place a hand or foot on the appropriate color. It gets challenging when the color start to run out or are a little too far away!
Clue – Figure out who killed Mr. Body by going from room to room in the mansion and making guesses. All the classic characters, all the classic weapons.
Pictionary – Get your partner to guess what you're drawing before the timer runs out. Play against other teams and score points for correct guesses.
Chess – Trap your opponents King using your knights and pawns. An excellent game of strategy.
Checkers – Through moving and jumping the goal is to claim all of your opponents pieces.
Games for Toddlers
Hungry Hungry Hippos – I have always loved this game. It makes a lot of noise but is so much fun! Hippo mouths chomping to eat the most marbles, whoever eats the most wins.
Trouble – a younger version of Sorry, Trouble is a fun way to introduce children to moving their pieces around the board. As they race towards the finish, they also have to be careful to not get bumped back to the beginning. The best part of this game is the popper in the middle, so much fun to pop!
Let's Go Fishin' – The first time I played this game was actually with my niece a couple of years ago. It's hilarious! (and also not that easy) watching these fish mouths open and close as you use your fishing rod to hook them and take them out. I laughed my head off it was so much fun. Is great for enhancing hand eye coordination and just a giggle to watch those gaping fish move all around.
Candy Land – Choose your sweet character and dance your way along the rainbow path to Peppermint Forest, the Lagoon of Lord Licorice and Princess Frostine's Ice Palace! Let your imagination soar as you make your way to King Kandy's Castle to win.
Connect 4 – Drop your round discs into the slots to create a line of 4, while trying to stop your opponent from doing the same. Sounds easy, but you can only drop one at a time!
All Round Favorites at our House
The Game of Life – Move around the board and try your hand at 'life'. Choose college and student loans, marriage, kids, a new car. Goal is to build your wealth and see what kind of life you can create.
Sorry – A great game of slide and collide, as you move your men around the board trying to get home before the other players. Drawing cards to move your men, you try to bump others back to the beginning before they bump you!
Scattergories – A fun game using letters. Pick a theme card and roll the dice. From the list each player must come up with something that fits that item starting with the letter rolled. Sound easy? Well there is a time limit of course
Cranium – Cranium is a great game with 4 elements to it, allowing everyone to shine. Acting, drawing, data or words complete tasks in these categories to win points and advance around the board.
Blokus – This is a great strategy game we discovered a few years ago. The goal is to place as many of your pieces on the board while preventing the other colors from doing the same. The challenge is the pieces are in different number of tiles and shapes
Battleship – This classic game of who sunk my Battleship takes me back to days of asking for E4 with my sister. A two person game, each person places their battleships and then takes turns guessing on the grid to try and find and sink the opponents. They also have electronic Battleship, which is super fun, with all the explosion sounds and such.
Yahtzee – A great family dice game, rack up points by getting groups of numbers, straights and maybe even a Yahtzee. This game of luck and strategy makes it both challenging and exciting.
Taboo – Try and get your partner to guess the word on your card without using that word or any of the five other words on the card.
Survive, Careers, Trust Me (all no longer available :(, but have to mention – Ok Survive is the best! You build an island that is sinking and have to save all your men and get them to the safe islands on the outer rim, before the volcano explodes. Careers classic, create your formula of happiness, fame and fortune then go around the board on different career paths to achieve your dreams! (We love this game so much my Mother recreated the board so that we could play it at my house) Trust Me is a great game of buying, bluffing and making deals all for the most cash! (it is really too bad you can't get these games anymore, I'll never give mine up!)
Do you enjoy board games at your house? What are your favorites?