I'm always on the lookout for new trails to hike and explore with the kids. I love the outdoors and it is one of my greatest joys to share this passion and excitement with my children.
For years we have been driving up and down the #1 highway west on our way to visit family or on some kind of adventure. I love this drive, it is a beautiful, lush and full of places to discover and explore. Often though we are pushing through to our destination or have another 'planned stop' and don't always have the opportunity to stop at the trails and sites that I would like to see.
There are 4 National Parks along this route, Banff, Yoho, Glacier and Mount Revelstoke. All are unique and beautiful in their own way with so much to do and explore.
Ever since Matthew was little I have wanted to go on the Rockgarden trail. It is a short 20 minute hike on the east side of the Rogers Pass, in Glacier National Park. We discovered it one time when we stopped for a bathroom break and pulled into the parking lot for the outhouse.
This trail though short is not meant for strollers or young children. If you have young children you will need a baby carrier to take them with you.  It is a steep, rocky trail with high drops in some places. It has rock stairs and winds through boulders and lush forest. It is considered a miniature landscape all it's own, rich in lichens and mosses that are more than 2000 years old.
For one reason or another we have always passed it by, timing not working out with the kids, weather or the desire to push through and get to our destination. But this weekend we went! I was driving Matthew out to my parents for the week, and I had already decided before we left that this would be our planned stop. I was very excited that we were finally going! I kept my fingers crossed that the weather would be decent, as it was a little rainy.
When Matthew and I entered the trail we were in awe of what we saw. Piles of rocks/ boulders settled along the trail, part of the trail. It was truly entering a rock garden.
At the beginning of the trail be sure to pick up a brochure that describes different areas of the trail by matching the symbols in the brochure. This provides you with more insight into what is/ has happened in the area and you can appreciate the wonder and life of the area. It is also a great educational tool for the kids! When I was little I always loved reading the signs and learning more. My parents would read the signs to us and as we grew we would read them on our own. Sometimes we would even set up a scavenger hunt using the signs and information and that was fun too!
As we meandered and explored the rock garden we noticed the faces in the rocks and the energy of the forest. It is a magical place, one where you could sit and rest awhile before carrying on on your journey.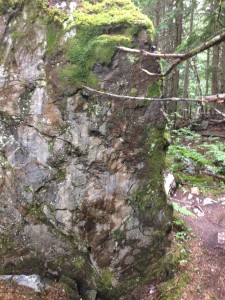 So next time you're heading down the #1 and need a break, or a chance to stretch your legs, I would highly recommend this beautiful and magical place tucked within the Canadian Rockies. Stop a while and take a breath, enjoy and discover a place you may not have noticed before.