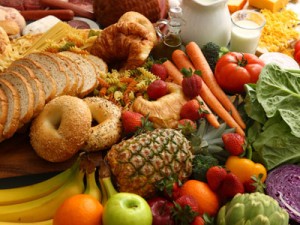 Eating well is something that is on many of our minds at this time of year. After the overindulgence over the holidays of food and especially treats, many of us look to make changes in what we eat come January. Whether the goal is to lose weight, feel better or just have the entire family eating well balanced and nutritious meals, here are some quick and easy things you can do to make changes right away.
1.Have nutritious snacks on hand. I often find it is not our meals that get us but the snacks we have in between. I have found that my kids will eat what is put in front of them (I have even noticed this for myself as well). If there are veggies and dip out on the counter then that is what they will grab when they are hungry, but if there are cookies near by and accessible then they'll go for those. So I have started putting together a veggie tray and setting that out afterschool. I like to include variety such as grape tomatoes, mushrooms and snow peas; include your kids faves and watch them disappear. I have some yummy dairy free dip recipes that are easy to make and great with vegetables. You can also do a fruit tray as well with this yummy healthy caramel dip.
2. Provide sugar free sweet treats. There are lots of great recipes out there for sweet treats that do not contain the refined sugars and use natural sugars instead. My kids love banana candy, which is easy to make ahead and have on hand. Or raw chocolate truffles and chocolate pudding (my mouth is watering already!) We all love our sweet treats, it's in our nature. By providing healthy ones, we satisfy our cravings for something sweet and can feel good about it – not only for ourselves but for our kids to.
3. Plan the menu for the week. If you plan out ahead of time your meals (especially dinner) this will not only reduce your trips to the grocery store and save you money but it will reduce stress and the "I don't know what to make for dinner so I will grab this quick easy (and often unhealthy) option" -whether it be the frozen dinner or the scrambled eggs.
Starting with these 3 easy steps to healthy eating will put you on the road to eating a healthier and more balanced diet.
Tip: I have found that it is easiest to start small and break things down into steps that you can achieve easily, one at a time. If you take on too much at once and try to radically change everything not only are we more likely to give up because we are so overwhelmed, but those changes probably won't stick. Aim for easy, aim for success!