I am always on the lookout for new places to go see and explore. I feel that there is so much out there in the world that it is not only important but fun to go and find out what's out  there. I especially love being able to take my kids to these places to show and share with them the richness and variety of our world; that there is so much to see and do. So much to go and learn, experience and appreciate.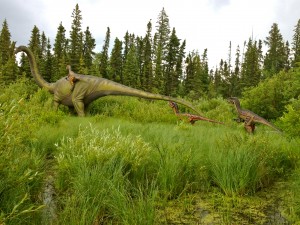 Our latest adventure took us to the Jurassic Forest, which is just north of Gibbons, Alberta. It is an animatronic dinosaur display where you walk along 2 different loops to experience and learn about dinosaurs. It is extremely well done.
I could have just stood there for hours watching just one, but the kids would look watch enjoy and then be saying, "Come on, come on Mum" to go and see what's next.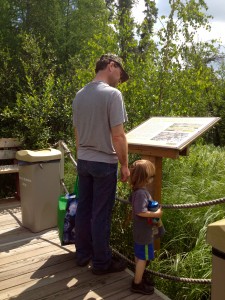 There is lots of information around the trails, excellent interpretive signs as well as some of the staff wandering around with special items, like a T-Rex tooth or beaver pelt, to explore or to answer any questions. I am a sign reader 🙂 I want to read every sign and every bit of information that is on it. I am not sure if this is just me or if perhaps my parents taught me this (as my sisters seem to be sign readers too) but I like to read and learn all the information. I don't want to miss a thing! I try to relay some of the information to the kids by sharing a fact or two but this does not always work.
Entrance to the park is reasonably priced, $40 for a family of 4 and $8 for an additional child. Our adventure there was quite interesting as we started out with warm sunny weather and clear blue skies, while part way through we ended up with a thunder shower and rain.
One of the rules we had when we went on any trip growing up was that we had to have 2 things – our bathing suit and our rain gear. If we had those two things then we were set no matter what. I have adopted this with my children as well and though the twins are too young yet to know it, Matthew always smiles when I bring it up and can answer very quickly what the 2 things are that he should have; and dutifully packs them without fuss or question.
My point is we were prepared, so that when it started to rain we just put on our raincoats and carried on, while others rushed through the rest of the path to find shelter. Ok well almost all of us had our raincoats. I have to admit that though we had brought them I only had mine in the park and had left all the kids raincoats in the car. Oops! That did not work out so well.  Regardless, we still did not rush for shelter and mosied along the path finishing our tour. As my aunt said (who joined us at the park that day), we're here we might as well check it all out.
There are other things there to enjoy as well, they have an interactive display where you can actually ride a dinosaur, a paleontological site where you can discover and help identify dinosaur remains, an adventure play area and a flora and fauna walk. You can also find scavenger hunts for each of the loops on the Jurassic Forest website that you can print out and search for clues. They have even added two new loops The Evolution of Mammals and Taking Flight (about birds and their link to the dinosaurs).
They have a photo contest each month with a different theme where you can win a Jurassic Forest prize pack. And the gift shop is really good. I often find that the gift shops at these places have a bunch of junky trinkets that break easily and overly priced. This one is quite well done with lots of neat, quality items, such as dinosaur bone ice cube trays, dinosaur puppets and models.
All in all we had a fabulous time with Luke asking the next day if we could go back. We all really enjoyed the dinosaurs, especially my aunt who thanked us profusely for inviting her to come, with a a big smile and a gleam of excitement in her eye. So if you're looking for an adventure this summer, have a some dinosaur lovers or just looking for somewhere to take the kids you have not been before, I would highly recommend you venture out to the Jurassic Forest.