I love those neat little gem discoveries that we make by accident on our travels and in our lives. Places that you did not know of or intend to go but somehow ended up there. This happened to my mother and I when we were in Italy. We were in Naples planning to go to Orvieto the next day but when we checked the train schedule discovered the train left at night so we had a whole other day there. That's when we looked around and discovered Pompei was not very far and could easily be done during the day and then catch our evening train. For me that was one of the best parts of our trip.
This happened again recently for my family this summer when we were out in British Columbia visiting my folks. I had always wanted to take the kids out to Farmer John's Petting Zoo in Keremeos but the timing had never worked out. So this one particular day I told them we were going to pet some animals and off we went; only to discover when we got there that it no longer existed and the farm was for sale 🙁 (Thankfully Luke and Chloe were not too upset and just kept looking for the animals).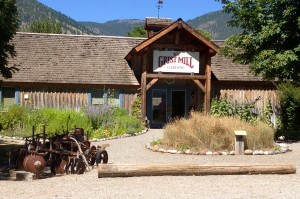 But as we were traveling up and down Upper Bench Road looking for the farm, I noticed a Provincial Heritage site called the Grist Mill and Gardens. So not to waste our trip to Keremeos and in the spirit of an adventure we went to check out the Grist Mill.
The Grist Mill is an actual old flour mill rebuilt from 1877. The grounds include not only the mill, but beautiful gardens, tea room and gift shop as well as some other replicated buildings from that time. It is a an educational family fun site in a beautiful setting along a creek, with an apple orchard and walking paths. The site also has picnic tables for those who wish to bring their own and enjoy it out in the gardens. There is a small admission fee to the site.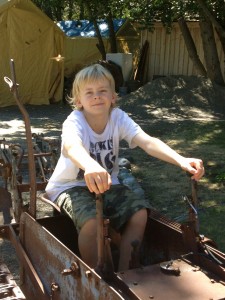 The kids were very excited and interested in what there was to see. They were lots of hands on interactive things that they could do and before we were even in the door Matthew found an old tractor that he could sit on and maneuver. Inside the General Store, was an area where they could look at and 'process' different kinds of grain, as well as a log cabin to build. Luke and Chloe loved the cabin building and Matthew and Grandpa thoroughly enjoyed processing the wheat and making it into flour (as Matthew got to grind and then sift the flour).
The tour of the actual flour mill was fascinating, with a demonstration of how everything worked. It was interesting to see how the waterwheel worked and how much work it took to actually produce a small amount of flour. I would not have wanted to do that job!
With such beautiful grounds they also offer various workshops and events such as watercolor, evening concerts and guest speakers. A very rich and beautiful spot literally tucked away, but totally worth going to!
So Luke and Chloe did not get to see the animals as I had promised, though we did see a couple of Llamas, but we all enjoyed our little adventure and learned a little something too!
Though we were there in the summer they are still open into the Fall and it would make a great Fall outing. So if you're in the Keremeos area before Thanksgiving it's worth going off the road a bit to discover this little gem.