One of the most magical places on earth is The Enchanted Forest. Found along the TransCanada highway between Revelstoke and Sicamous, this beautiful old growth forest is like a child's dream.
No matter how many times I there I always enjoy it. The beauty and energy of the old growth forest is calming and peaceful. With the delightful storybook and nursery rhyme characters in amongst the trees it truly makes for a magical and wonderful experience.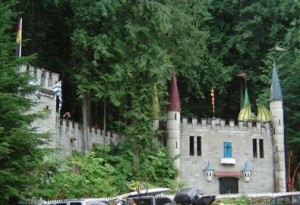 It is a must stop for our family and every time we drive by on the way to Oliver, BC the kids are asking if we can stop there. This summer was the first time for Luke and Chloe. Being 4 years old this was the perfect age for their first experience.
Once you enter your first stop is the Enchanted Castle where the resident wizard welcomes you. You can clamp yourself in the gallows (or any misbehaving children) or explore the dungeons below. Word of caution: the dungeons I find to be dark and scary and definitely not for small children.
You can climb the stairs to the tower and enjoy being 'King of the Castle', before you continue along the path through the forest. The path then takes you around the forest with stops along the way to play and enjoy the fairytale characters. There is everything from the Three Little Pigs, Snow White, and Winnie the Pooh, to Hansel and Gretel, Old Mother Hubbard and the Cow that Jumped over the Moon.
The forest also hosts the biggest Tree house in British Columbia, with 3 levels and a gorgeous view at the top.
There is also a Nature Trail which takes you back further onto the property with opportunities to see beaver dams, row boats and explore other nature items.
Luke and Chloe dashed and explored everything. Checking out the houses, which are just the right size for 4 year olds, going down the slide at the Old Lady in the Shoe's house and enjoying the cage at the witches house (Hansel and Gretel). At the end of the trail there is a duck pond where you can buy duck food for 25 cents to feed the ducks.
You can easily spend a couple of hours in there and not feel rushed. The great thing is once you've paid your admission you can return to the forest throughout the day if you choose to. We went through it twice and they wanted to go a third!
Even my oldest who is almost 11, and has gone many times, still enjoys exploring here. Whether you are exploring the Revelstoke area or just passing through, the Enchanted Forest is a must see for all ages, children and adults alike.