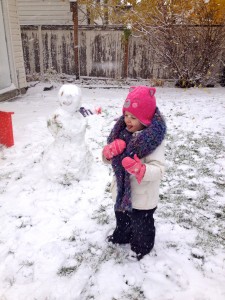 The first snowfall of the season is such a magical time. I love waking up to the snowy morning, seeing the world blanketed in snow. It makes it feel like Christmas and I want to run downstairs and put on the Christmas music, regardless of the date.
Now I know for those of us who have to get up, scrape the car and venture onto the road to go to work, the first snowfall of the season may not seem like so much fun. There's no magic in people seemingly forgetting how to navigate in the stuff (cause don't we all have short term memories and have to relearn how to drive in it). It's stressful, it's slippery and you're wondering what idiot is going to come out too soon, or too fast and cause an accident.
But I invite you to see (and remember) through the eyes of a child, what that first snowfall feels like. The excitement and wonder of the snow coming down. Itching to get out to play and enjoy it.
Our first snowfall this year was on a Sunday, which is a little easier on many of us. We did not have to get up and go anywhere. We took pleasure in the white stuff. I did run downstairs and turn on the Christmas music, dancing around the kitchen with the kids. Luke's eyes glowing as I spun him around. Luke and Chloe rushed through breakfast and then scrabbled to get their coats and boots on to go outside. Happily chattering about how maybe they could make a snowman and snowballs.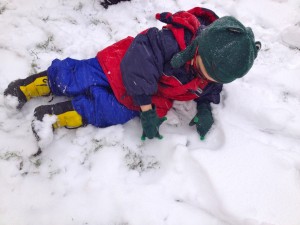 They shoveled it, they laid in it, they wanted us to get out there with them and play in it. And we did, we got out there and helped them make the first snowman of the season, adding the traditional carrot nose and rocks for eyes. Using big sticks for hands. We threw snowballs and made paths through the snow, playing and enjoying the wintery wonderland.
Once we were tired and cold we came in to enjoy hot chocolate, one of those wonderful treats that is so loved and enjoyed on a cold snowy day after playing in the snow. The kids loved it! We loved it! and that feeling of coziness and warmth carried on with us throughout the day, as the big fluffy snowflakes continued to fall to the ground.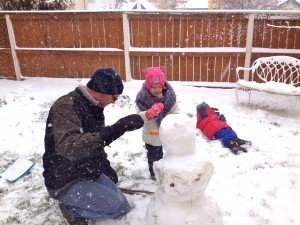 I even ventured out to do some errands in the afternoon and found the roads to be not bad at all. Yes I know not everyone is a lover of snow, and it does have its drawbacks when you have to travel, but maybe just maybe if we all looked at it through the eyes of a child, and took a moment to remember those feelings of fun, play and laughter. All the good times we had in it, that might be enough for us to drive to work feeling more at peace with the snowfall, giving that extra space to the car ahead, feeling content and happy with where we are and the feelings of joy that this wonderful white stuff can bring! I know it may sound a little hokey, but it's true 🙂 And this morning when the kids got up they wanted to head out and play in the snow once again.