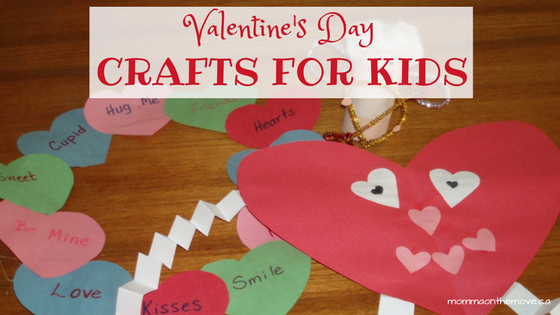 Valentine's Day is a great holiday to get creative with kids. There are endless crafts ideas with very little materials or preparation needed. Kids will love these easy, simple Valentine's Day crafts from hearts to cupid!
All you need are things that are red, pink and white, some hearts and a little imagination! Children of all ages can make these easy crafts. Of course, parent supervision is recommended when doing any crafts, besides it is a great opportunity for you to be creative and use your imagination too. My two favorites are the Valentine Person (I love any craft with accordion folding arms and legs) and the Cardboard Tube Cupid (I just think he is super cute!)
Depending on the age of the children you may want to do some prep in advance, pre-cutting shapes or strips depending on the craft you are making. During the craft you may have to assist gluing and folding depending on the ability of the child; but some 3 years olds do very well with these activities with little or no help. The key is to let the child do as much as they can themselves not only because it is their craft but to help them learn certain skills and achieve success. This will also instill a sense of pride in their finished Valentine's Day craft.
Valentine Heart Wreath
This very pretty, easy craft can be done with children of all ages. Younger children may need assistance with cutting.
What is needed: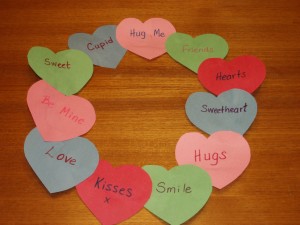 different colors of construction paper
scissors
glue stick
markers/pencil crayons
cereal box
Trace a circle, about the size of a dinner plate onto the cardboard from the cereal box and cut it out. Trace a smaller circle about the size of a small plate inside the first circle and cut out the middle. Cut hearts that are approximately the same size out of construction paper, using a variety of colors. Note: smaller hearts will take longer to cover the wreath than larger ones.
Write different valentine words on each of the hearts like love, hugs, kisses, best friend, etc. Then glue the hearts around the cardboard ring until the circle has been covered.
Valentine Person
This is great for children 3 years and up. Younger children may need assistance with cutting out hearts, or have the hearts ready for them. Very easy craft that is lots of fun. Kids love the accordion arms!
What is needed:
red and pink construction paper
white paper
glue
scissors
markers
Cut one large heart out of red construction paper, this will be the body. Then cut 4 medium sized hearts out of pink for the hands and feet. Cut one small pink heart for the person's nose. Put pink hearts aside.
Cut 4 long strips of white paper, these will make the arms and legs. "Accordion fold" the strips then glue them onto the red heart, one on each side for arms and 2 on the bottom (where the point is) for legs. Glue on one pink heart at the end of each strip for the hands and feet.
Glue small pink heart in middle of red heart for the nose. For the eyes children can cut out 2 more hearts and glue them on; they can glue on google eyes; or they can draw eyes on using markers. Similar options can be used for the mouth of either cutting out small hearts or gluing them on to form the mouth or draw it on.
Valentine Photo Frame
Great for kids 4 and up. Younger children may use only 1 or 2 colors if desired. Recommended that parent use the acrylic sealer when younger children are doing this craft.
What is needed:
small wooden unpainted photo frame
acrylic paint
paint brushes
craft jewels, buttons or stickers
acrylic sealer
white glue
Paint frame in 4 different colors, a different color on each side. Allow the paint to dry, then spray the frame with the acrylic sealer and allow to dry.
Once the sealer is dry select whatever decorations desired and glue them onto the frame. Some craft jewels may not require gluing as they have a self adhesive backing that can be peeled off and stuck onto the frame.
Add a picture of the child in the frame once dry and there is a wonderful gift for Mum, Dad, or that someone special.
Cardboard Tube Cupid
This craft is best done with children 7 years and up. It has many steps but is easy to do and very cute!
What is needed: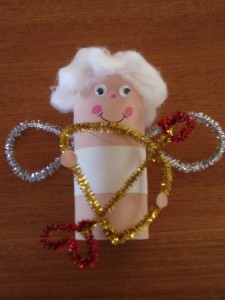 cardboard tube (toilet paper roll is perfect)
acrylic paint – peach, pink, white, black
paint brush
1″ strip white construction paper
1 gold (pipe cleaner) chenille stem
1 red chenille stem
1 silver chenille stem
2 cotton balls
small piece peach felt
pencil
white glue
scissors
Paint cardboard tube with peach paint; let dry. Bend 2/3 of gold chenille stem into a letter "D". Twist ends to secure and cut remaining long piece of chenille off. Remaining piece will be used to make arrow.
Bend end of red chenille into a small triangle; this will be the point of the arrow. Twist ends and trim long end off. Take remaining red chenille and bend into a red heart; this will be the back end of the arrow. Twist to secure and trim off excess. Take the remaining piece of gold chenille, twist one end onto the arrowhead and one end onto heart. Lay the bow on the table and glue the arrow across the front of it.
Cut the silver chenille stem in half to make wings. Bend both halves into tear drop shapes and twist ends to secure.
About an inch up from bottom of cardboard tube, apply some glue. Glue the 1″ wide strip of white construction paper around the tube and trim any extra. This is cupid's diaper.
Stand the tube on end, diaper toward the bottom. Poke a hole on each side of tube with a pencil for the wings. Insert twisted ends of silver chenille wings into the holes.
Unroll the two cotton balls. Place some glue on the ends of both and attach to top of cardboard tube for hair.
Lay tube down on its side, wings sticking out to the left and right. Glue bow and arrow to the front of tube. Allow to dry completely. Cut two small circles from flesh-colored felt and glue to the front of the bow as the hands. In place of the felt, paint a piece of white paper peach and then cut out hands.
For cupid's face, use a cotton swab or a roughed up paintbrush to dab some pink paint on for cheeks. Use the handle end of a paintbrush to dot on two white eyes. Let dry. When white is dry, dot on black. Two google eyes may be used instead of painting on eyes.
Valentine's Day Crafts for All Ages
Valentine's Day crafts are fun and enjoyable. One will find that there are many ideas and levels of crafts available, from very easy to a little more involved. Kids of all ages enjoy working with their hands and getting creative. Valentine's is a great way to teach them about love and giving in a fun, interactive and creative way!
For more ideas on Valentine's Day crafts check out Kaboose and Enchanted Learning.