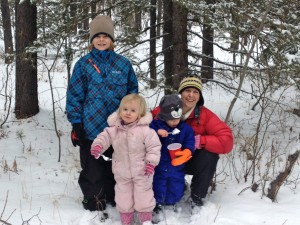 Today the kids and I spent the afternoon in Kananaskis, having been invited by our neighbors to join them for quading, a campfire, food and fun. It was a wonderful afternoon with certainly no shortage of food, laughs and friendship.
The kids got a chance to go out on the Razor, Matthew usually riding in the front passenger seat and Luke and Chloe being pulled along in the toboggan on the back. Luke, being the trooper that he is, was the first to try it out.  Hopping into the toboggan with no worries, totally trusting that he would be safe and wanting to find out what it was all about. Chloe being less sure refused the first time, but was then upset when Luke set off without her.
Riding with the neighbor Mr. Koop, Luke simply enjoyed the ride, taking it all in. As they were riding Mr. Koop would ask Luke if he was having fun and Luke would just nod. He would later ask if he wanted to ride some more and Luke would nod again. That's my boy, he just sits and observes, but it doesn't mean that he is not having a good time, he is just quietly enjoying it.
While others in our group took their turns on the Razor/ toboggan we cozied up around a campfire in the trees, having hot chocolate, brownies and roasting hot dogs. Everyone brought something and shared, there was plenty to go around. Now for us it's a bit challenging to share foods with our requirements of no dairy and no sugar. But I was prepared and  brought our own hot chocolate, made with almond milk and sweetened with maple syrup, a little mesquite and lucuma powder; as well as cinnamon salted caramel brownies. This recipe, (sugar free, dairy free and gluten free), I discovered while shopping at Community Natural Foods earlier in the week. They are sooo good!
I managed to whip up a batch before we headed out so that the kids would have something to enjoy. Cause like I said sharing can be challenging, not for us to share with others, but for others to share with us. Everyone was fascinated by the brownies and many had a taste. Sheila commented that she would never know they had no sugar in them if I had not told her (and thought they were delicious).
Matthew was a bit frustrated by the amount of things that were there that he could not have, while the twins didn't know the difference. But it challenged Matthew to branch out a little; he tried roasting grapes over the fire and seeing what it was like. He said they were not bad. It also demonstrated how much of our food has sugar in it – which I pointed out to Matthew. So many of our convenience foods and foods we choose to bring to gatherings contain sugar! Many of these things, like baked beans or chocolate cake I can make with natural alternatives, but they also take time and I am not always able to pull these things together if we get invited on short notice.
Overall though Matthew survived and though he felt a bit slighted and a little upset with me, he had a great afternoon. He got 3 rides on the Razor and even Chloe eventually got on. Chloe, Luke and I took a turn together in the toboggan and had a great time. We did flip over at one point and tumbled out, but we got back in and enjoyed the ride. Luke and Chloe screamed in delight and we returned to our site with rosy cheeks and covered in snow. (Now just so you know Conroy was driving very slowly with the little ones in the back but it was just the right speed for me and enjoyable and safe for the twins) Even though there were moments where Chloe was a bit concerned, if you asked her if she had fun, her eyes glowed and she nodded adamantly.
It was so great to get out for the afternoon and enjoy the winter snow. It's amazing that we have hardly any snow in Calgary but to drive half an hour down the road into Kananaskis there is tons! It was a beautiful mild winter day with gently falling snowflakes that came off and on. We totally skipped Luke and Chloe's afternoon nap to go and I left the house in a mess and came home to the same mess, but sometimes you have to do those things in order to enjoy life. I am a big believer in routine and rarely deter from it (in fact some people call me militant), but sometimes you need that change, that spontaneity.Yeah I had to clean up when I got home, and supper was a little late, but I was able to handle it all calmly and cooly just doing what I needed to do. And because I had that break and that socialization it did not bother me at all that I still have to clean up a little or stay up a little later (yes there are still dishes awaiting me in the sink).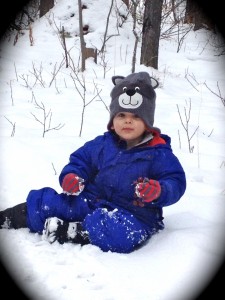 We went out and connected with nature, fed our spirits and just had fun! Which my goodness sometimes we just need to do in life. Leave the laundry, dishes, cleaning and go play! Enjoy this life and the time we have on this planet cause we are only here for a short time, might as well make it excellent!
Plus we created some wonderful memories for the kids (the kind that will be "Remember when we fell out of the sleigh…", connections with others and some great pictures. (it's unlikely that the same can be said for the laundry) Now who can put a price on that?
What adventures did you have this weekend? Leave a comment and share below