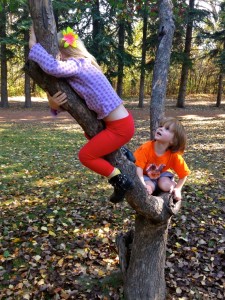 Children naturally love to be outside. Running, jumping, playing, climbing are all elements of outdoor play. We should not underestimate the value of outdoor nature activities for kids  and playing outside as it has many benefits.
Children who spend more time outside learn to appreciate and care for nature. Their natural curiosity encourages them to explore and learn in ways that we may not even realize. They develop physical and gross motor skills, burn calories, get their Vitamin D and contribute to their aesthetic learning as well. Think of all the colors, sights and sounds out there engaging the senses – from bird song to the feeling of bark under their hands or mud squished through their fingers. These activities are all contributing to the development and growth of your child.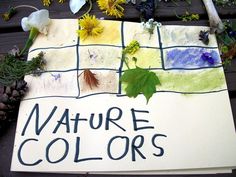 Though free unstructured play in the outdoors definitely has it's place and benefit, you can enhance your child's learning experience by doing simple and exploratory outdoor nature activities with them. Deepening their appreciation of nature, teaching them basic skills/ concepts as well as growing their curiosity. Outdoor nature activities for kids can introduce them to something they may not have thought of before or learn about something that they may just take for granted. For instance, the feeling of the bark of a tree – some are rough, some are smooth, while others have a powdery substance on them. Then this can lead them to asking why? why are the barks different? Or looking at and finding all the different colors there are in nature – there is not just green and brown, exploring a little through different activities can show them the many colors of nature and where to look for them.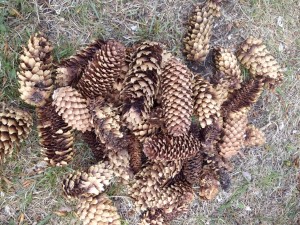 Over the next 6 weeks, we will explore different outdoor nature activities for children, featuring one activity each week; their benefits and how easy they are to do. You do not need a lot of equipment, just curiosity and a sense of fun and exploration. Depending on the age of the children, will depend on how deep you take their exploration. I find the best is to start simple and then take cues from the child as to where to go with it next and how long to spend on it. Something that might keep one child engaged for 20 minutes, might only engage another for 2. That's ok, length of time is not important – it is the experience and what they get out of it. Besides the child who is engaged for less time might find another activity of more interest to them and spend longer with that one.
Seeking and Sorting
Children naturally love to collect stuff. They often run outside and collect dandelions, rocks, leaves, etc. This activity uses this concept to start to grow their appreciation as well as some basic math and counting concepts. You can easily do this with a group of children as young as 2 years old or one on one.
Gather the children into a circle and show them what it is you want them to collect. Depending on the age of the kids I may ask them to find a specific number or simply to collect as many as they can. For instance, I hold up a dandelion and ask them what it is. If they do not know then I tell them.
Once they have identified what it is I ask them to go and collect 3 of these and bring them back and put them into a pile in the middle. Once they have done that, I will move on to the next item, say a stick. I emphasize that they are only to take sticks from the ground, as we want the ones that are attached to keep growing. I will ask them to collect 4 and bring them back and place it in the pile. Depending on the age group will depend on how many items we go seeking. With preschoolers I usually choose 2-3 items.
Once we have a great big pile, we may pretend it's a campfire and sing a campfire song. Or I tell them one interesting fact about the items they've collected, like pine cones hold the seeds for the new trees.
Then I will get them to sort them into 3 piles, all the dandelions in one, all the sticks in one and all the pine cones in another. Kids not only love to collect, they also love to sort! Sorting activities for children teaches them how to organize, how to determine alike and different as well as beginning math skills.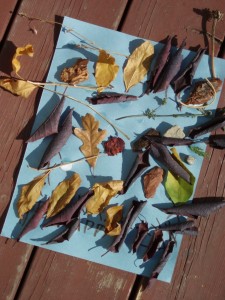 The great thing about this activity is it provides the foundation for other activities that you can now use the items you've collected to do. Activities like Woodland People, Building a Nature City and Nature Collages all utilize the items you've collected and bring in a little creativity and imagination.
Try out this Seeking and Sorting Activity this week and share in the comments below how it went and what favorite things you found!
Next week we'll build upon this activity by Building a Nature City, that uses what we've collected.