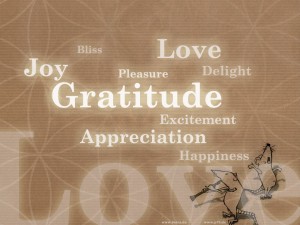 Many of us spent this past weekend celebrating Thanksgiving. Spending time with family and friends sharing a savory meal of turkey, veggies and pie. It is a time when many of us recognize and acknowledge the blessings in our lives and give thanks.
It's great. It gives me a warm fuzzy feeling just thinking about it. But it makes me wonder, if it feels so good and makes us happy, why do so many of us wait until the holidays to express our gratitude? Wonderful things happen everyday, in every moment that we should be grateful for.
Studies have shown that the more grateful you are for things in your life, the happier you are and the more good things will come to you. Leaders and prominent figures in the world are leading the way by talking about gratitude and it's effects on their lives. Sixteen years ago, Oprah Winfrey started a gratitude journal, in which she writes down 5 things everyday that she is grateful for. She believes that this is one of the best things she has ever done in her life.
Being grateful is easy. If you appreciate and love what you have you will receive more. Even the simplest things, like someone holding the door open for you, or bringing you flowers, smiling. We often forget how some of the simplier things in life can bring us such joy and beauty. When we take note of them, they increase. We become more alive and receptive to the goodness that is in our lives and it keeps us living in the present moment.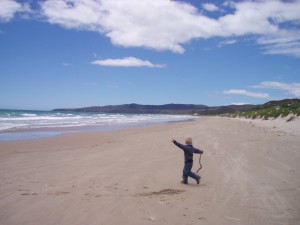 I know there are many challenges in life and there are days when you wonder how you can be grateful for anything. On those days especially it is important to identify things that you are grateful for. If the kids have been screaming and you have been going crazy, then all of a sudden you have 5 minutes of silence and the kids playing happily, be grateful! Say thank you – you'll get more!
Being grateful changes your state of being, brings a sense of peace, contentment and more overall happiness in your life. If you practice being grateful everyday, then everyday will be beautiful and wonderful, no matter if it seems like the world is falling down around you.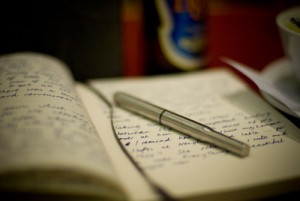 The key thing is to write down the things you are grateful for. Writing them down creates more power in your words; and your hands are a direct connection to your heart, so writing them down strengthens this connection. Creates more love and genuine appreciation.
I know you may be sitting there grumbling that this is all mumbo jumbo, so if you don't believe it do an experiment. Start a gratitude journal and write down 3-5 things every day that you are grateful for. Do this for a week and notice what happens, notice how you feel, notice what has come to you. Then do it for another week and notice again. You may find that things not only are improving in your life but that your overall sense of well being has improved.
And it is easy to teach this to your kids. Most families are very diligent about teaching our children to say please and thank you, but if we can teach them to do a bit more then this will open them up to such beauty in their lives.
Yesterday when Luke and Chloe came home they noticed the snowsuit and snowpants that I had brought up. They had not seen these before so to them they were new. As soon as they saw them they were both saying, "Oh! thank you Mommy!" like they were the best things in the world. They immediately were trying them on, oohing and awing. It was a totally simple thing but they were showing gratitude. No one prompted them, no said they had too. They just did. I feel that if we can all nuture this in each of our children we will create a very different world.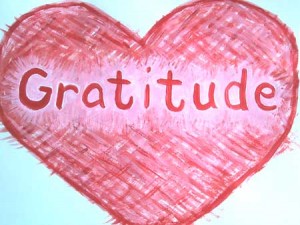 With young children you can ask them at the end of each day before they go to bed what they are grateful for. With older children you can have them tell you but also write them down in their own journal. I believe that if we share what we are grateful for it increases, spreads out like the ripple effect. And doing it before bed is a wonderful time to do so because ending your day with things you are grateful for and make you feel good, happy; you are more likely to wake up in the morning feeling the same way. And isn't that a great way to start your days? for you and the kids?
Gratitude is not a new thing and there are many ways to express it. But it is important that we do, everyday, not just on holidays or special occasions. It's all part of creating what we want in our lives, focus on what is good and you will create more good. And I am guessing that we would all like more of the good things in our lives.