I have always thought of Toronto as my adult playground. The place where I can go and play, party, stay out late and then get up early and go again, for days. I may return tired but revived, having enjoyed some true adult playtime and enjoying the energy and freedom of the city (and being sans enfants).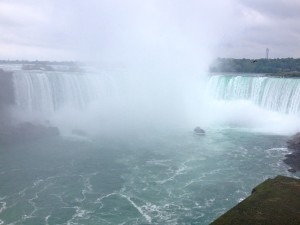 I also enjoy the sites and attractions, some of which I return to again and again, each time discovering something new. This trip I headed down to Niagara Falls with Matthew (yes this time it was not a sans enfants trip, he was in the wedding party I had to take him ha ha). He had never been before and was interested in seeing the falls. I love that area in general and find that there is lots to do there.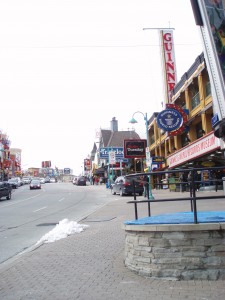 This area is what I like to call the Canadian version of Las Vegas (though I have never been to Vegas I imagine it to be so), with the main street lined with flashy shops and entertainment of all kinds. Haunted Houses, wax musuems, restuarants, etc. It is a huge family playground and you can spend lots of money very quickly. It is bright, vibrant and busy with lots of variety.
This is on top of all the attractions to do with the falls itself, such as the Journey Behind the Falls, Maid of the Mist and the Whitewater Walk. I had done the Journey Behind the Falls on my previous visit but had never been on the Maid of the Mist and always wanted to go. So this was our goal this time, if it was the only thing that we did we would be happy.
This was definitely the highlight of our visit (well it was for me I think Matthew would likely vote for the Dinosaur Adventure Golf we played later on). The Maid of the Mist is a boat that takes visitors on a boat ride tour to the foot of the Falls where you get a fabulous (and wet) view of the 13 storey falls. Each visitor receives a souvenir (and completely unfunctional) Maid of the Mist blue raincoat to keep them dry on their tour. Matthew and I put ours on with pride, overtop of our raincoats, which I had the forsight to bring, getting more and more excited as we got closer to our tour. *the raincoats are really just long thing poncho style pieces of thin plastic with a hood and though they look good really do not protect you from getting wet at all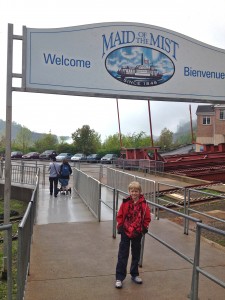 It was hilarious to watch previous boats going out with little blue dots of people on  it waiting in excitement and anticipation to view the falls up close. Everyone went out dry and smiling and came back soaking wet.
I had been told by a friend who had gone the previous week to expect to get wet but I did not realize that he meant drenched. We got on the boat and happily went to the front. We drifted past the American Falls, fantastically close as we continued toward the Canadian side. As we went past the first set of falls we got a little damp from some of the mist, listening over the roar of the falls to the recorded interpretation and history of the falls. I thought that was the worst of it.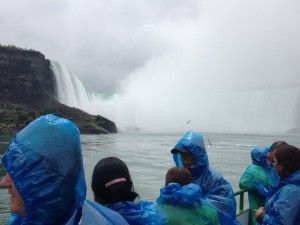 Our excitement rose as we got closer and closer to the Canadian Horseshoe Falls. The roar of the falls getting louder and the mist beginning to become more and more. Soon it felt like it was raining and we were getting even closer. Matthew and I screamed in joy and delight as we were literally getting completely drenched. It was amazing, just drifting there in the falls for a few minutes, getting completely soaked. (I now knew why the one girl who walked off the boat before us was combing her wet hair). It was a euphoric experience. You may think it weird to enjoy getting that wet but it was cool, to be that close to the falls in our fancy raincoats literally soaking it in. Hard to describe but it was awesome.