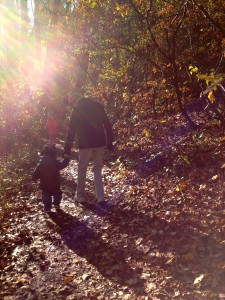 Crisp autumn leaves crunch beneath our feet. The morning is crisp yet fresh, as we move along the wooded trail exploring. The kids are playing peek a boo amongst the trees, peeking out from behind tree trunks or hiding 'obviously' within the twigs. The pace is relaxed, amiable, and comfortable as we explore the natural world together.
This is how we spend our Thursday mornings at Parent Me in the Park. Exploring the beauty and wonder of Edworthy Park with other parents and children. Enjoying all that nature has to offer as the season changes and shifts, learning and discovering new things each week.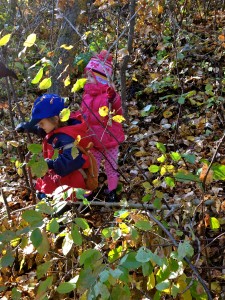 I love this program. It is one that is close to my heart as I am an outdoor enthusiast myself and believe strongly in the power of teaching and bonding with children in nature. I also believe there is huge value in connecting children to their natural environment at a young age. "More and more research is highlighting the benefits of spending time in nature. Rain, shine or snow… (Parent Me in the Park) a morning of fun and discoveries." If they use that childhood wonder and curiosity to learn and appreciate the planet through the outdoors, then they will take good care of it as they grow up.
Lead by Nancy Richard, a certified PCI Coach and Early Childhood Educator, Parent Me in the Park is a wonderful program that does just that. Through exploration, songs and stories, she not only connects the children with nature but teaches us, as parents, to connect with our children as well, creating a bond with them, like no other.
I discovered this program when I was at Angel's Cappuccino and Ice Cream Cafe earlier this Fall (which was also a wonderful new discovery) parousing the bulletin board and saw a poster for the program. I was intrigued and excited, so we went the first week to find out what it was about.
Now our first week was actually in Griffith Woods, which is located in southwest Calgary in the community of Discovery Ridge. Due to our whacky snow storm that hit in early September, Edworthy Park had been closed due to all the damage and fallen trees from the snow. The location didn't matter though, Nancy weaved her magic with all the children quickly and easily.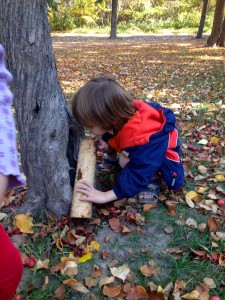 Luke and Chloe were engaged right from the start with Nancy's calm and easy going manner, and Chloe's new 'job' pulling the wagon full of all our supplies for our morning. The layout of the program is similar each week with a short circle of songs and games, then a walk (or meander) through the park pausing and discovering along the way. We choose a path and go and explore, finding sticks, pine cones, rocks, etc. along the way. Nancy goes with the flow, finding those teachable moments, whether it be about berries or pine cones, as our walk progresses.
After our walk, we enjoy a fantastic snack of fresh bread and apple butter, with yummy cloudberry herbal tea. For some, this is the best part, enjoying this delicious and nutritious snack together in the outdoors. Once snack is completed we sit on the blanket together for a short story, which Nancy tells with the use of hand puppets. All in all a very relaxing, very enjoyable morning.
Both Luke and Chloe love it, as I never have trouble getting either of them ready or out the door. In fact, Luke who is sometimes hard to move, always jumps up after breakfast and gets dressed, standing at the door waiting. I think it's fantastic!
And I love going to Edworthy Park as well. Looking forward to discovering a new area each week. My favorite so far being the Douglas Fir Trail; considered one of Calgary's finest hiking trails with some of the most easterly Douglas Fir trees on the plains. It is a beautifully treed trail that leads along the cliff above Edworthy Park.
I was also pleased to discover there is a lot of Calgary history around Edworthy Park, which I always find interesting and fascinating to learn. Nancy will share tidbits she is familiar with, but there are also signs throughout the park describing the history of the area and how the park served Calgary in its growth and development.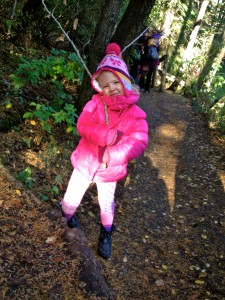 Another benefit of course, is the friendships that are forming between the parents, as we come together each week with our children. Finding out about each other, things we like to do, places we like to go and the challenges we also face as parents. Creating another opportunity for support in our parenting journey.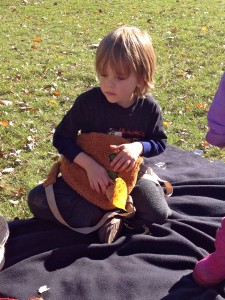 It is a beautiful morning, one that provides many benefits for the adults and children alike. We always leave feeling happy, satisfied and full, ready for whatever comes with the rest of our day. I would highly recommend Parent Me in the Park to any parents with young children between baby to 4 years old. It is an experience you'll never forget and a bond that you won't create anyway else.
For more information on this program and to register contact Nancy Richard or find Parent Me in the Park on Meetup.com.