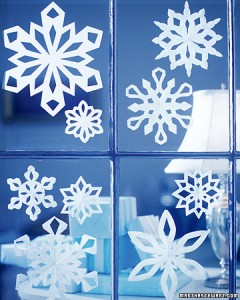 We all know that kids love crafts! and as a parent/ teacher it is fun to find things that are fun for them while teaching them developing skills. I love searching the internet to find different craft ideas. There are so many different things you can do with simple materials (many you already have around the house) and for little expense. I find that my kids just love making a craft, they are not picky about what it is they are making as long as they get to cut, glue and color; and they are so proud of what they made when they are done that they have to show everyone who comes in the door for the next few days.
Here are a few simple crafts that we have done recently that the kids really enjoyed. With the winter theme many of the crafts are based on snowmen, snowflakes, penguins, and mitts (or other winter wear). There are also some polar bears or other winter themed crafts to be found, but those are the most popular and you can find many variations on them that will meet the needs of any aged child.
Paperplate Penguins (Luke and Chloe loved this one! They both worked diligently to create it and then proudly showed Daddy – they added a little extra color too)
small paperplates
googley eyes
orange and black markers
white paper
scissors
glue
On piece of white paper trace a small paper plate. On the tracing draw two half circles on the sides for wings and a small circle for the head. On the top third of the small circle draw half circle with a dip or point going down in the middle for the crown of the penguin. On the same sheet of paper, draw 3 triangles, one large one for the beak and two smaller ones for feet. (Depending on the age of the child they can draw these themselves, if not have an adult draw them) Child colors the triangles orange and the wings and crown on head black. Once they have completed coloring them they can cut them out.
Glue the wings onto the backside of the paperplate. Glue the head at the top of the plate and the feet at the bottom. Glue googley eyes on the head to make the face and the beak slightly beneath them in between the two eyes.
Cut Out Snowflakes (one of my favorites!)
white paper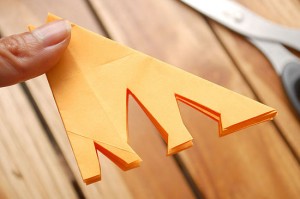 scissors
Fold piece of white paper in half, then in half again and one more time (so that you have folded it 3 times in total). Using scissors cut designs into the paper, child may do this by cutting off a corner, making a half circle on an edge, etc. Child cuts as many 'designs' into the paper as they would like. Once they are done child unfolds the paper and they have a beautiful snowflake with various patterns and designs.
Doing this will create a square snowflake. If you wish to have a circular one trace a circle on the paper and cut it out before folding it. You can also do this with smaller pieces of paper (to make smaller snowflakes) and/or colored paper. Children can make more than one and hang on the window creating their own 'snowstorm'.
Note: Depending on the age of the child an adult may need to assist with cutting the snowflake. This craft is best for children who have good motor control and can use scissors well on their own.
Hot Chocolate Mug (love this!)
lightweight cardboard (cereal box)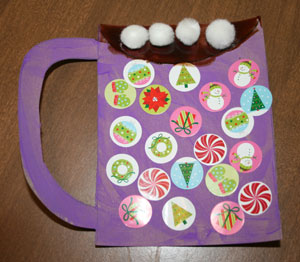 paint – brown and any other color
paint brushes
white pom poms small or mini marshmallows
stickers
Draw a picture of mug on cardboard. Cut it out. Paint cardboard mug with color of choice.  Let paint dry.
When the paint is dry the child can then decorate it with stickers. Draw a half moon at the top of the mug. Child paints in the half moon with brown paint and sticks on pom poms (for marshmallows). Let dry. Pom poms should stick onto wet paint without needing to use glue. If when it dries pom poms haven't stuck then a little glue can be used to secure them.
Note: Colored construction paper can be used in lieu of the cardboard and painting the main part of the mug.
Crafts are not only fun they are great ways to enhance children's developing motor skills and enable them to learn to grasp things with their fingers. It also feeds their creativity and imagination as well as a sense of pride when they are finished!
In my search for crafts I discovered this wonderful link with some fantastic and innovative ideas. Check it out for more great wintery craft ideas!