It's here again! The YYC Hot Chocolate Fest celebrating it's 6th year serving delectable signature hot chocolates in a friendly competition all over Calgary and supporting Calgary Meals on Wheels.
This is one of my favorite times of year! Savoring, tasting, testing and indulging in various signature hot chocolates, created specifically for this event. Whip cream, marshmallows, chocolate and caramel sauce; with flavors such as Marble Coconut, Maple Bacon and Theatre Hot Chocolate. Each dripping with flavor and chocolatey goodness. Every year I try to get out and try them all but since I only have 28 days to do it, it makes it pretty tough!
This year there are 77 businesses participating, doubling the participants from last year. That would mean that I would have to have about 3 hot chocolates a day for the entire month in order to have them all. I guess as a hot chocolate connoisseur it's a must!
I love the creativity and flare in this competition as the businesses create their own signature hot chocolates. Not only with their combination of ingredients but with the names for them as well. Like the Light Cellar's White Chocolate Matcha Kiss or Blenz Will You Accept This Rose? There are traditional or classic hot chocolates as well as spirited ones that have that little extra kick. And if you're dairy free not to worry there are a number of businesses (not all sadly) that do offer a dairy free option which means you can also be in hot chocolate heaven. Can you imagine? Where to begin?
The event runs from February 1-28 and people are encouraged to vote and rate each drink they try which is then used to determine the winner for best hot chocolate. Social media feeds such as Twitter and Instagram runneth over with pictures and comments on all these hot chocolates. Not only luring you out to try it yourself but helping to spread the word about the festival. And some of those pictures… yum! I just want to lick the screen.
There are also prizes for those who try the hot chocolates. You grab a passport from any of the participating businesses and when you go to each vendor and have their hot chocolate they cross off their square. Submit a photo of your completed passport and you could win a fabulous prize pack – even if you've only had one. I've always been one to 'complete the whole thing' (it's like a scavenger hunt) so I am totally into this.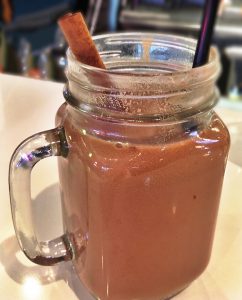 I also love going around Calgary and discovering some of the local businesses and coffee houses. It is a great way to promote those little tucked away spots that you may not have found otherwise. And you discover some neat tidbits too. I was at Blanco Cantina on the weekend, who offer a lovely spirited hot chocolate, Blanco's Chocoloca, and discovered that they are the second largest carriers of different tequilas in Canada. In fact, from where I was sitting the whole wall in front of me was lined with many different kinds. I would have never stepped in there otherwise (and this fact was actually very exciting to my friend who loves tequila).
It also takes you to a lot of places in the downtown area, which for me personally is not a place I go to that often, but again encourages people to go and explore your own city a little more.
I think my definite favorite so far is the Saucy S'more Hot Chocolate at Sauce Italian Kitchen & Market, while the Corbeaux at Analog (basil infused Lindt white chocolate) is a very close second. I don't know if it's that big dollop of marshmallow meringue, all that expresso chocolate sauce or the yummy graham cracker crumbs… but with this one I was literally in heaven. So good.
Still, there are many more to try and I only have one more weekend left to get out there! On my list is the Guiness Hot Chocolate at the Fairmont Palliser and the Citrus Ginger Orange at Monogram Coffee. It's doable right? Of course I'd love to try more but I need the festival to be a little longer! Or perhaps they might deliver? then I could just line them up at my house.
So grab the fam this weekend and get out there and try a few hot chocolates, maybe a Parisian or Lavender Love. Take lots of delectable pictures to put on Instagram and vote for the ones you like the best! It's a great way to discover what's in your own backyard and support a local charity while indulging in some delicious hot chocolate!