Inspired by our apple picking the other day and with the abundance of apples in my kitchen, I decided to hop on the internet and look for fun crafts, games and ideas to do with the kids around an apple theme. Of course, I was not disappointed by the abundance of ideas out there, especially at this time of year.
After checking out a number of websites, I made a list of my favorites and have been trying them with the kids over the last few days. Here are the highlights and my faves.
Apple Crafts
Fingerprint Apple Tree – this craft is super easy and fun! You will need brown, red and green tempera paint and some paper. The kids place the side of their hand in the brown paint and then stamp it on the paper. Then using their index finger they dip it in the green paint to make leaves. Lastly using their pinky finger, they dip it in the red paint and touch it to the paper to make apples.
Matthew and I did ours just like the picture showed while Luke and Chloe, though they started out the same, ended up getting very creative with their tree. It was so cute to watch, both very focused, creating their tree. It was actually their first time using paints and they loved it! and have beautiful apple trees to show for it. And even though it doesn't 'look' like the picture, they proudly call it their apple tree and share it with others.
Along the theme of apple trees, kids can also make a Pom Pom Apple Tree. Again very simple and easy. You will need brown paper, a brown marker, green paint, scissors, white glue and red pom poms. For this one I am going direct you to the website I found it on as they have done a great job of explaining how to put it together with great pictures.
There are other easy apple crafts I discovered that I like – Cinnamon Apple Wreath, Toilet Paper Roll Apple, Stained Glass Apple and one of my favorites, the Worm in Apple.
You can even do apple prints, like potato stamping, and create beautiful lunchbags, dish towels or a homemade greeting cards. A craft from Martha Stewart of course.
Apple Games
Hot Apple – Just like hot potato except you use an apple instead. Children sit in a circle passing around the apple while there is music playing. Children pass the apple from one to another; they want to pass the apple quickly because when the music stops if they are holding the apple, then they are out of the game. Game continues until there is only one child left.
Apple Relay – Divide the children into 2 teams. Designate a starting line and an end line.  Teams line up one behind the other at the start line. The first person on each team places the apple on their head and must balance the apple on their head while they walk to the end line and back. If they drop the apple they must stop, count to three, then place the apple back on their head and continue. Once they are back to the start line, the next person goes. The first team to have everyone on their team finish wins.
Apple Hide & Seek – this is great for younger children. Have the children sit in a circle and close their eyes. While their eyes are closed hide the apple. Once it is hidden children may open their eyes and then move around the room looking for the apple. Once they find the apple they leave it where it is hidden and simply return to the circle. The last person to find the apple can hide the apple for the next round.
Of course there is the traditional Bobbing for Apples, which we typically do around Halloween, which is always a riot. I like the version where you have to bob for the apple, then go and use your nose to find a candy in the flour bowl. It can get quite messy but it's a hoot!
An apple theme would not be complete without books about apples. From Apples, Apples, Apples to How to Make an Apple Pie and See the World

there are many stories that will teach and delight children of all ages.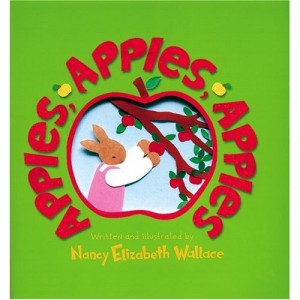 Apples, Apples, Apples is a wonderful children's book that I discovered while doing my research on the internet. Written by Nancy Elizabeth Wallace, it's about the bunny family's trip to Long Hill Orchard where Mr. Miller takes them on a wobbly wagon ride and tells them all sorts of fun things about Fall's favorite fruit. It also includes apple songs, sayings and a recipe to try.
How Do Apples Grow?
is a delightful story about how apples grow from flower to fruit, ready for you to eat. Written by Betty Maestro, it is beautifully illustrated and easy to read.
Regardless of the apple activities you try, the kids will be sure to enjoy themselves learning about this abundant and delicious Fall fruit and you may even learn something new yourself!