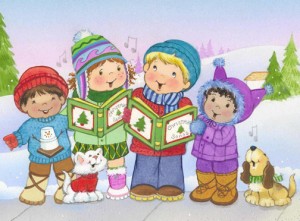 Last year Matthew and I decided to see if we could sing a different Christmas Carol each day on our walk to the school bus. I was finding that instead of the morning walk being a pleasant and happy time I would use it to discuss issues and then the poor kid would often get on the bus upset or mad, and I didn't feel so good myself.
So when December came I decided to make things more fun and told Matthew that each day we would choose a Christmas carol and sing it as we walked to the bus from December first until school was out, around the 20th. The challenge was that we could not repeat the same Christmas carol.
This may seem like an easy task but once we got past Jingle Bells, Joy to the World and Santa Claus is Coming to Town we had to start racking our brains for new tunes. Either that or we had to look up the words to the carols as we could only sing the first few lines.
It is amazing how many Christmas carols there are out there and how few we actually know. So it became a study, as we would look up a Christmas carol print out and learn the words for our trip the next morning. It turned out to be a lot of fun. We were both happy and smiling by the time we got to the bus stop and it was a great way to start the day. We were feeding our spirits and playing together. It was great for our relationship and ourselves. Singing is a great way to feed your spirit and open your heart, not only at Christmas time but year round! Now we know lots of Christmas carols with all the words, some new, some old.
It was so fun that when I recently told Matthew that we would do it again this year, his eyes lit up and he smiled. I think this year we will make more of a plan in advance, choosing our carols earlier and learning the words if we have to (as many mornings last year we were holding song sheets in our hands and trying to sing and walk at the same time. It was also tough to read the words as this time of year in Calgary it is still dark when we head for the bus).
Some of my favorites are All I Want for Christmas Are My Two Front Teeth, I Want a Hippopotamus for Christmas and Matthew's –Do You Hear What I Hear. I am looking forward to seeing what we come up with this year and how many new carols we will learn.
I can save the "talks" for another time, a time when it is more appropriate to do so and he is not heading off somewhere after.
So here's my challenge to you. I am inviting you to join us in our challenge. You may not have a walk to the bus each day with the kids but find a time, the same time each day, where you can sing a Christmas Carol, from December 1-24, a different one each day, and see what you can come up with. You'll find that it is lots of fun, a great way to connect with the kids and get into the holiday spirit. You'll also learn a lot too!
Then come back and post the songs that you sang in the comment section and share with everyone how much fun you're having! I'm interested to hear about your experience and perhaps learn some new songs from you. I'll post our songs as well and we'll see how many different Christmas carols we can come up with.
Enjoy! Have fun!