What do a giant shark, a spinning tunnel and an expedition to Antarctica have in common?
They are all found at Kelly Tarlton's Sea Life Aquarium in Auckland, New Zealand, a fabulous underwater world created by New Zealand's most celebrated under-sea explorer.
During our 3 week travels to Australia, we incorporated a week in New Zealand to get a little taste of the green pastures full of sheep, vineyards and many other sights of the country. We only spent one day in Auckland so had to pick and choose what we saw (as there is so much to do just in Auckland), but Kelly Tarlton's was not a sight to be missed!
This harbourside marine park is a great place for the kids and the entire family. With experiences such as Shark Dives, Penguin Discoveries and Behind the Scenes tours, to Interactive Zones and the Seahorse Kingdom there is something for everyone.
Located just outside of Auckland's downtown on Tamaki Drive (and easily accessible by city transit or a free shuttle from downtown), you're adventure begins as soon as you purchase your ticket. Entering Scott's Base, you're taken back to the first expedition to Antarctica and the conditions they had surviving there. Learning about life on the coldest place on earth!
Authentic memorabilia such as reindeer sleeping bags, food they took and items for entertainment, takes you back 100 years ago when Captain Robert Falcon Scott lived in his Antarctic Hut exploring the area.
Soon after is the Antarctic Ice Adventure, where you have the opportunity to see New Zealand's only colony of Antarctic penguins. After navigating the 'ice tunnel', (a spinning tunnel that makes you feel like you can't walk in a straight line, and is hilarious for the kids. The floor is not moving but because the tunnel is spinning around you it feels like it is. My daughter found herself crawling along the floor to make it to the end). You enter a walkthrough area where you can view the King and Gentoo penguins swooping and swirling through the icy waters.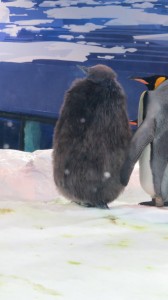 These guys are a delight to watch and all 3 of my kids loved watching them swimming and diving. I got some great video of them watching them, until Chloe hit Matthew or something like that, and then we caught a nice little tiff on video, aw the memories. Ha ha, what a great family vacation!
We had the priveldge that day of seeing the new King Penguin chick, tall, fluffy and stoic, standing on top of the ice. He was pretty cool to see.
We moved on to the other areas of the aquarium, enjoying Stingray Bay, where we timed it just right and listened to the Stingray talk, while sitting and enjoying a much needed coffee while listening. Did I mention that there is a nice cafe across from the Stingrays for just such emergencies?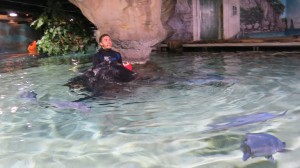 It was pretty cool as we got to see the Stingrays up close and learned a lot about them, like how they spend most of their time inactive buried in sand, and prefer shallow waters, with the largest growing to 6.5 long. They really are fascinating gentle creatures, and it took me back to my swimming with the Manta Rays when I was in Hawaii.
The highlight for sure was the shark tunnel, where you are literally surrounded by sharks in an underwater tunnel. Stepping onto a moving pedway, it takes you around the 'loop' to view the sharks and other fish in the aquarium; able to step off on the side if you wish to pause and look a little longer.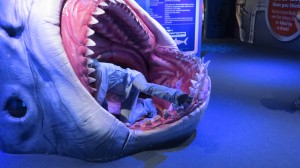 It was such a unique experience to be surrounded by these sharks and marine life. We even got to see some other people on the shark cage experience – where you get to go into a cage and swim with the sharks in the tunnel. Pretty cool experience I think.
This place is very well thought out and laid out, with lots of opportunities to view and explore. Brimming with information, hands on opportunities and fun interactive experiences (have I mentioned the giant shark mouth that you can be 'swallowed up' in?) it will easily engage everyone.
The aquarium also gives back to the community as they provide school programs, scholarships, and established the Sea Life Conservation Fund, a non profit organization committed to protecting unique aquatic animals and their habitats.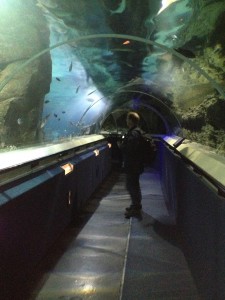 Sadly, Kelly Tarlton himself has already passed away, dying shortly before his one millionth visitor saw the aquarium, but left a legacy and fulfilled a dream. He was dedicated to preserving and protecting marine life in our oceans and educating others. His Sea Life Aquarium continues to do this for all it's visitors, young and old alike.
One of the final highlights of our visit was the souvenir photo we purchased at the end of our visit. When we first went in they snap your picture and of course offering it to you for purchase at the end. The thing was ours was really good. We got poses of us in the Antarctic with the penguins and another being eaten by a shark! Plus it came in a neat little package with information about the aquatic animals as well as opportunities to download photos online and even create your own slideshow. It was pretty neat!
Definitely worth the visit, and a place I would go back to and visit again, Kelly Tarlton's is a must see when visiting Auckland!