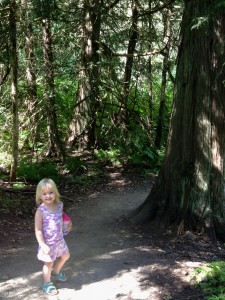 Often times on road trips I look for a nice little place to stop along the way. I feel that the journey along the way can be just as much fun as the destination. In fact we often find/ discover little treasures or places to explore that we might not otherwise.
The road between Calgary and Oliver is full of these little places and many a time I have driven thru making a mental list of all the places I would like to stop. Completing this list often takes a while as there are so many, and we typically only make one stop (or it would take forever for us to get to Oliver). We also tend to stop at some places more than once because they are favorites of the kids. (I have been to the Enchanted Forest so many times now I have lost count! but I do love it there)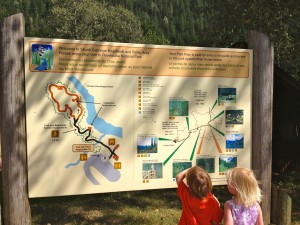 This was the case on our way back from Oliver this summer as it was about that time to stop and stretch our legs, as I always like to make sure we do so at least once. It not only breaks up the drive but gives everyone a nice break to look forward to.
We were coming up to the Skunk Cabbage Trail which is in Mount Revelstoke National Park. I was starting to feel tired and Luke and Chloe who had been sitting so well for the whole trip, needed to get out and move a bit.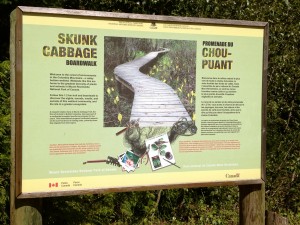 When I told them that we were going to stop and go for a walk on the Skunk Cabbage trail they got very excited and chatted about it excitedly until we got there. I had been on this trail before with my oldest son Matthew when he was about 3 years old and this was one of my favorite trails. Luke and Chloe had never been and I knew that it was a short loop they could easily handle.
The 1.2 km loop is a valley bottom wetland – one of the rarest environments found in the Columbia Wetlands and is full of Skunk Cabbage, a plant that is found in wetland areas and has a beautiful yellow flower in the spring. It is called Skunk Cabbage because of the distinctive 'skunky' odor it emits.
We set off along the trail, crossing a wooden bridge over a rushing creek. Luke and Chloe stopped to check out the sight leaning through the rail, saying "Mommy look water!". We could have stayed there watching the water for awhile, going no further and Luke and Chloe would have been totally satisified. But me, being a typical mother wanted to move on as I not only wanted to walk the trail but was concerned about them falling over the railing into the water – ha ha.
On the other side of the bridge we entered into a cool old growth forest making our way to the beginning of the boardwalk itself. Interpretive signs highlighting the rich diversity of the plants and animals found in this area were spaced out along the loop. We would stop at each sign and I would ask Luke and Chloe if they wanted me to read it to them and they always said yes. So we learned about the bird migration project they were doing, that black bears like to eat Skunk Cabbage and other plants and animals such as Devils' Club and frogs.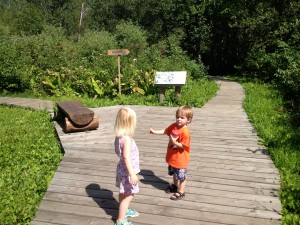 It was a hot afternoon and I was glad that it was only a short walk. The kids had their water cups with them while I had left mine in the car. We took our time, stopped to rest and enjoyed the trail. Luke kept asking where the skunks were, as that is what he thought we were looking for. I explained to him that it was a skunk plant and not an actual skunk and kept pointing them out along the trail. Chloe caught on quickly and started to point out the plants as well. Luke was still asking about the skunks by the time we got back to the car but enjoyed his walk none the less.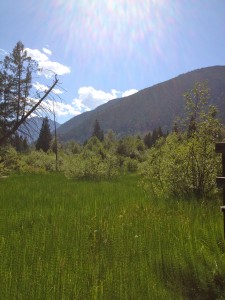 I always enjoy doing little walks like that with my kids and this trail was the perfect size for what we needed that day. There are other short walks along that stretch of highway like the Giant Cedars and the Rock Garden trail, which are fairly easy and just the right size for a little breather (and a bit of an education too!)
Though we did this walk in the summer, you could still easily do it in the Fall and if you have the chance I would definitely recommend it in the spring; as that is when the Skunk Cabbage flowers and it is a very cool sight to see – these huge plants with big yellow flowers in the middle.