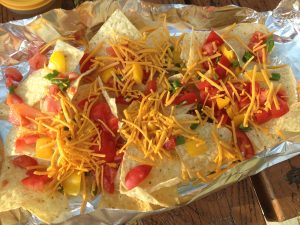 One thing about exploring new camping recipes this summer is that it has definitely expanded my horizons and opened up my thinking; as well as adding more variety to our camping menu! For instance I had never thought of making nachos while camping. It just never entered my mind. And really the question is why couldn't you?
Campfire nachos adds great variety to the camping menu and is almost a treat. It is also a quick easy, healthy, and well balanced recipe (ok except maybe the chips), but it's another one of those quick 'one pot' deals that I love while camping.
We made it on one of those lazy and enjoyable camping days where we had floated down the river in the morning and were just hanging around the campsite in the afternoon. I had precooked the ground turkey that afternoon, knowing that we were having the nachos for supper and saving me that step when it came time to actually put them together.
Matthew made the fire as usual and I prepped dinner. The thing that I like about this recipe for campfire nachos is that you do not need a bed of coals to cook it. Simply a good fire and cook on top of the grill. It also does not take very long as you are literally heating through and melting the cheese. Saves your hungry campers drooling over it and constantly asking when it is ready!
I did mine in two batches due to the size of our grill, but I would recommend doing it in two batches regardless. Doing it this way makes it easier to move on and off the grill without spilling it and carrying it to the table.
Everyone gobbled it up of course and asked for seconds. The beauty of nachos as well is you can really put any ingredients you like on them. I've even heard of people putting on fruit or pickles! Whatever ingredients you choose you know they are going to be delicious.
Campfire Nachos
1 lb. ground turkey meat (may also use chicken, beef, pork)
1 – 500 g bag tortilla chips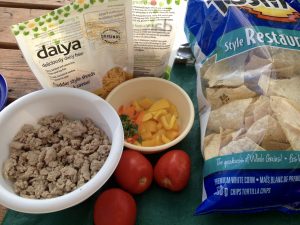 2-3 fresh tomatoes, chopped
1 pepper, chopped (choose your color green, red, yellow, orange or a mix)
green onion, chopped
1 pkg. Daiya cheddar cheese shreds
Earth Balance Vegan Spread for lightly greasing foil
1 container Earth Island Vegan sour cream for topping
heavy duty aluminum foil
Brown meat in a frying pan either on camping stove or over the fire (this step can be done in advance and stored earlier in the day if you wish).
Chop tomatoes, peppers, green onion and set aside. Tear off 2 large pieces of heavy duty aluminum foil (approx 22 x 12 inches) and place shiny side down on table. Lightly grease both pieces of foil with Earth Balance.
Make two batches by doing the same for each or you can make two different kinds if you like.
Place tortilla chips in a single layer on top of the foil, then sprinkle turkey, tomatoes and pepper evenly over chips. Sprinkle cheese and then green onions on top.
With a second piece of foil place shiny side in, lightly over top of nachos, tenting it so that it does not rest on top and stick to your toppings. The second piece of foil helps the cheese to melt faster and prevents any pieces of ash that may spark up from getting into your nachos. Place prepared nachos on top of grill on fire and cook, approximately 10-15 minutes. Check nachos periodically to make sure they do not burn. They may also be ready sooner depending on the heat of your fire.
Once done – heated through and cheese melted, remove from grill of fire using oven mitts and serve with sour cream. Enjoy!
Serves 4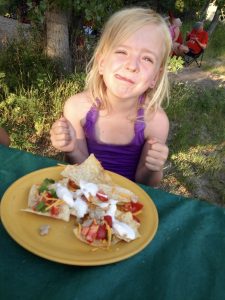 *a quick tip to help you transfer the nachos from table to fire is to use a wooden cutting board. I just slid them onto the board and took them over to the fire, then gently slid the nachos onto the grill. I did the same when taking them off, aligning the cutting board with the grill and then sliding them off using oven mitts onto the board. I recommend a wooden board because you can get it close to the fire even top the side of the grill without melting or damaging it.
Missed out on our other camping recipes this summer? Check out Campfire Lasagna, Potato Boats, Campfire Corn on the Cob, Cinnamon Apples, Banana Boats, and Pineapple Upsidedown Cake.