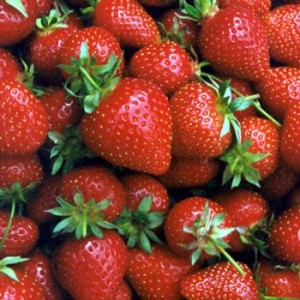 For years now I have been making my own jam, a tradition that I have learned and carried on from my mother. In the summer, we would go strawberry picking, bringing home flats of strawberries and Mum would make fresh jam.
Our kitchen would become a production center with flats of strawberries, jam jars, and other ingredients all laid out to make the jam making process easy and smooth. Mum would make jars and jars of it; because as a family of 5 we ate a lot of jam.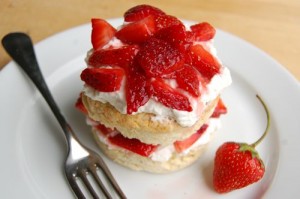 Many times we would have enough left over to make some great desserts too, like strawberry shortcake or strawberry rhubarb pie. Often too, Mum would simply freeze the berries for later.
Jam is very easy to make and with a few simple ingredients, a pot and your stove you can whip up a batch quite quickly and have fresh homemade jam. There are sugar free, reduced sugar and regular jam recipes, but regardless of your preference they are all delicious! The first time I made jam my husband looked at me weird and asked me why was I making jam when we could buy go some at the store. I smiled and said, "Just wait." He did, and when he tasted it, his eyes got big and he promptly started eating it with a spoon!
When we were first eliminating sugar at our house, I wondered what I would do about making jam, as the recipe I usually used had tons of sugar in it and there were no jams in the store without sugar. The regular Certo recipes use up to 8 cups of sugar per batch, so I had to find an alternative. Last year I discovered Pomona's Universal Pectin, which is 100% pure citrus pectin and you can use honey or other sweeteners for your jam.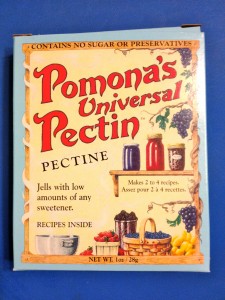 I was so pleased to have discovered this I made a batch of jam right away. It turned out beautifully and my family continues to gobble it up! We tend to go through a jar of jam a week. The favorite is peach jam, but I like variety, so I also make apricot, raspberry, strawberry, blueberry and cherry.
The thing that I really like about this pectin is that I can double or triple my batch. I found that with the Certo recipes doubling or tripling did not work well and therefore was having to do one batch at a time. Ugh! Though I enjoyed making it, the process was slow and as I am sure all parents can relate, we are happy when we can do things faster and still maintain quality!
With all the fresh summer fruit I tend to make a lot of jam; as I said we go through a lot. I usually buy cherries in the Okanagan when I am there visiting my parents, I also get fresh peaches as they have a peach tree. We have our own raspberry bush, and when the children have not picked it clean and eaten them all, I will make a batch.
There's nothing like the taste of fresh homemade jam, it is so delicious that even I would eat it with a spoon!
Making jam is very easy. Below is a recipe for Peach Jam (the favorite at our house) using Pomona's Universal Pectin. Recipe can easily be doubled or tripled.
Other jam recipes are included inside both Certo and Pomona's pectin boxes, and vary slightly depending on the kind of jam you are making. They also offer cooked and no cook jam freezer recipes.
Peach Jam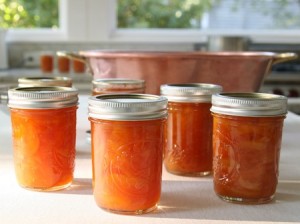 4 c. mashed peaches, peeled
1/4 c. lemon or lime juice
1 c. honey (you may use as little as 1/2 c. honey depending on how sweet you like it)
3 tsp. Pomona's Universal Pectin
4 tsp. calcium water *
Jam jars with seals/lids and rings
Large pot to make jam in
Small pot to boil lids
Wash and rinse jars. Heat jars in 225 F oven for 10 minutes, keep warm until ready to use. Boil lids and rings in small pot. Turn down heat and let stand in hot water.
Prepare peaches by peeling, slicing and mashing to make 4 cups. Put fruit with lemon or lime juice in large pot. Add calcium water and stir.
Measure honey into a separate bowl. Add pectin powder; stir thoroughly.
Bring fruit to boil. Add pectin-honey mixture, stir vigorously about 1-2 minutes to dissolve pectin. Return pot to a boil and remove from heat.
Fill jars to 1/4″ from top. Wipe rims clean, place lid/seal and screw ring on top. Screw on tightly. Put filled jars in boiling water to cover and boil for 10 min. Remove from water, let jars cool. Lids will 'pop' as they cool to seal and should be sucked down. Store in a cool place until ready to eat.
Makes 5 -250 ml jars.
*calcium water is 1/2 tsp. white calcium powder (provided in Pomona's Universal Pectin box) and 1/2 c. water
Note: if you do not have time to complete your jam but have the fruit; you can measure and prepare your fruit and freeze it for later use. I have done this and it works well.
Happy Jamming!