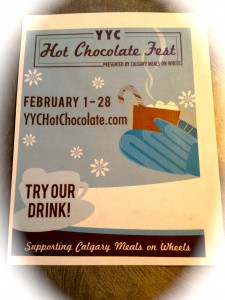 Warm delectable chocolate and sweet cherries delight the palate, filling the senses and warming the soul…aaahhh heaven. The Black Forest hot chocolate, one of 36 possible heavens in the YYC Hot Chocolate Fest this February. A fundraiser to support Calgary Meals on Wheels, this is the 5th year various coffee shops, restaurants and chocolatiers in Calgary roll out their signature hot chocolate recipes and compete for the best hot chocolate in town.
I was very excited to discover this event this year (and wondered why I had not heard of it before). Throughout the month of February you can try as many hot chocolates as you like, then go online to vote for your favorite, as well as leave comments and participate in the additional contests.
I have had the pleasure of enjoying 3 so far, the Black Forest, Australian Summer and the Creamy TLC, all different and unique, all with flavors that are hard to compete with. My goal is to try them all, which will be a challenge in itself in just 28 days, but it's hard to resist when there are flavors such as Red Velvet, Tiramisu and Butterfinger Peanut Cup to enjoy.
I realize this means that there may be some days where I will have to have two or three hot chocolates just to make sure that I get them all in before the 28th, but sacrifices have to be made, and happily I will make this one.
I love the idea behind this Hot Chocolate Fest, (especially with chocolate involved!), it's fun, gets the community involved and is a great way to create awareness. It also supports local businesses, encouraging people to explore the unique coffee shops and niches in Calgary, it's creative, expressive and supports a good cause! It is also a great social event, one where you can invite friends to join you, and create more of a network online. Who doesn't love hot chocolate? (yes I realize that maybe someone doesn't, but many of us enjoy the thought of a nice warm drink on a cold day. It means cozy, it means social, it means tastes buds coming alive with the different and unique combinations to enjoy).
The other thing I love about the Hot Chocolate Fest is many of the vendors offer dairy free options for those of us who wish to do so. When I ordered my Black Forest at the Higher Ground Cafe, I could choose from soy milk, almond milk or coconut milk. Now this did mean no whip cream and my cherry sunk to the bottom, but it was great that this option was available so I could participate too, and my body would be happy with me.
A Hot Chocolate Fest just gives me an all around good happy feeling, making me feel all warm and fuzzy inside. So whether you are tempted to try one or try them all, go out and check out the YYC Hot Chocolate Fest. Don't forget to pick up your Hot Chocolate Passport from one of the vendors and check off each one as you go along to enter for additional prizes. I might see you out there. Come back here and share what your favorite was. Happy Hot Chocolate Drinking!