Lights sparkle and shine as they dance with the music. Delight in the twins eyes as they wait in anticipation, the music building, wondering what will come. Then, in a crescendo of light and music together the spectacle really begins. Movement and rhythm, flowing and moving as their eyes follow the dance. This wonderful light display one of many that light up Calgary this holiday season.
I've always enjoyed those videos on youTube with the houses all decorated for Christmas and the musical accompaniment that goes in time with the light display. I always thought how cool that would be to see some of those live instead of just online. Little did I know that in Calgary there are a number of houses that do have such a light display. When my friend told me this a couple of years ago I was quite excited! So one night we went out and did a tour. It was wonderful! We enjoyed the light display from the comfort of our car, tuning into the posted radio station, which plays the music in time with the lights.
People are quite creative, incorporating all kinds of things with usually about 4 or 5 different songs before the show repeats. This year I took the kids out to see the lights for the first time. We made an evening of it, bringing hot chocolate and snacks to enjoy while we watched the lights. Luke and Chloe loved it! Dancing and moving it in the van while watching in wonder. We stayed at each house until the full set had run and then moved on to the next one.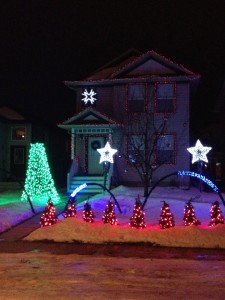 The neat thing is that there are tons of them in Calgary and you can view as many or as few as you like. The site Lighten Up Calgary lists and maps out the houses that have such displays and you simply go to the site and create your route. We visited 3 houses when we went out last week but that was just the right amount for Luke and Chloe. And I thought it was great that they knew their limit and knew when it was time to go home. I would've have gone to one more, but they had seen, enjoyed and were 'full'.
They fell asleep on our way home, tummies full of hot chocolate, and dreaming of dancing lights. Next year I'm sure we'll go out again, as it's another great free family activity to enjoy over the holidays. Most of them play every night in December and up until New Year's. Who knows maybe one year we'll even create our own display and be on the route – apparently it's as simple as buying a kit. How fun will that be!