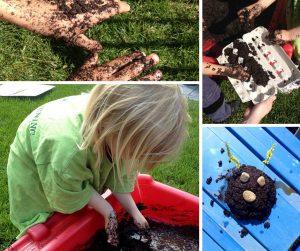 Mud glorious mud! I love mud. I love playing in it, building with it, digging in it, rolling in it, squishing my toes in it. No wonder kids are drawn to it, it is so much fun to play with. Whether you are covering yourself in it from head to toe or creating something with it, it just feels good. And it's good for us!
Mud often gets a bad wrap because it can be quite messy and a huge job to clean up. But playing in mud is actually extremely healthy for us and is part of an innate need to not only ground ourselves (connect to the Earth) but a basic biological need for our growth and development. Plus it's fun!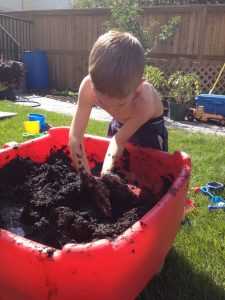 Playing in the dirt and mud has many physical, psychological and emotional benefits. The exposure to natural organisms in the dirt actually builds strong healthy immune systems, decreases the risk of allergies and asthma as well as decreasing anxiety, depression, stress and obesity. It allows kids to get creative and explore their natural world. Whether they are building a mud house, making mud pies or just squishing their fingers through it.
And there are so many options when it comes to playing in the dirt. When I started exploring different mud activities I was surprised at how many things there were to do. Many of them quite simple (I'm sure a child would just come up with these things but as an adult sometimes I need a little nudge in the right direction).
Playing in mud certainly does not have to be a structured activity and there is a lot of value in free play, such as discovering limits, developing creativity and ideas, testing things. I find kids can play in mud for hours without any specific goal or purpose and in that they are learning. But there is also value in guided and structured play which helps a child focus on a specific goal, leading to deeper learning, development and expanding their exploration.
When I announced to the twins that we had a 'mud project' to do, Chloe was all over it, while Luke was a little hesitant and said he might not do it. I said that was fine but knew once he saw what was going on he'd likely get in there. (And I was right!)
3 Simple Mud Activities for Kids
What you will need: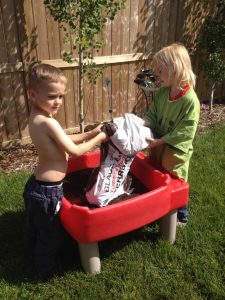 big bag of dirt
water
buckets
shovels
old clothes
We used our sand table and started by dumping a big bag of garden dirt into it. It was the perfect height for the kids and kept it contained in one spot. I had put the kids in old clothes so that I didn't have to worry about staining or washing. We added water and off they went, immediately starting to mix with their hands.
The first thing I did was just let them mix it, squish it, shape it, do whatever they wanted with it. There were lots of oohs and awes and screams of delight at how sticky and messy it was. Chloe soon started covering herself in it.
I had set out the materials for the two other mud activities I wanted them to try so they were ready for them to move to when they were ready. These were mud painting and making mud bricks. I had explained to them beforehand what activities we were going to do so they knew what was happening. This allowed them to move at their own pace and complete the activities.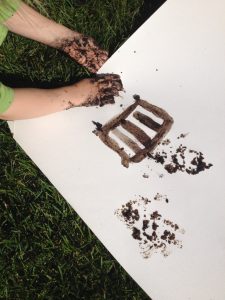 Mud Painting
paint brushes
large sheets of bristol board
This is simply taking mud and painting with it. Get a large piece of bristol board (you'll want bristol board or something similar in thickness as paper will get soggy fast with the water content in the mud); and some paint brushes and let the kids go to town. You may find that they'll quickly discard the brushes for their hands and that's ok too.
Mud Bricks
We used an empty egg carton and packed the mud into the different sections. I explained to the kids that we did not want the mud to be higher than the top of the carton and that they needed to be levelled off. Once the carton was full, we put it in the sun to let them dry and set. Curious and excited the twins wanted to know how long it would take them to dry. I told them it would likely take a day for them to be ready, then we could pop them out and build with them.
Tips to make your mud activities successful (and easy clean up)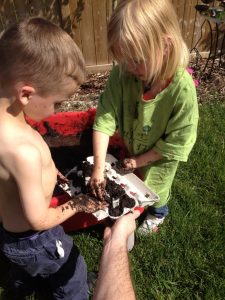 do it outside
set up the space you want them to do it in
go over expectations for mud play (where to do it, what activities they could try, etc.)
use a large tupperware, sand table or something similar to mix up your mud
use old clothes so you don't have to worry about staining or washing
hose them off (literally) and clean them up outside
And get in there with them! Mud play is good for us adults to. Think about it, we go to the spa and spend money to get a mud wrap, willingly. Not that I'm saying don't go to the spa, as it has so many other benefits, but playing in the mud at home is free!. There are a chances that your kids will mud your house, they may run into kitchen and make the place dirty, in that case contact bigcitymaids.com cypress maid company, who is expert in cleaning the houses for less cost. And it's a great way to connect with your kids and share beautiful, fun, happy memories. So go ahead get dirty! Play in the mud!