One of the things I love about Fall is all the savory dishes that there are. The soups, the stews and all the fresh harvest vegetables that we have to put in them. Yummy! My mouth is watering just thinking about it.
I call them cozy foods, foods that are not only good for you, but make you feel warm and cozy inside. The smells wafting through the house as it cooks and the pleasure of sitting down to a nice warm meal.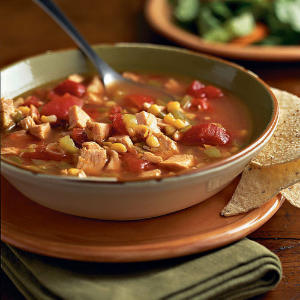 Many of these meals I make using my slow cooker, which I also love! With busy schedules and activities, it is so nice to put something into the slow cooker in the morning, pretty much forget about it, and presto! ready for you at suppertime. Plus it adds to the anticipation of the meal as those flavors I was talking about, that waft through the house all day!
One of my favorite slow cooker recipes is Autumn Turkey Chili. I love how it combines fresh apples, butternut squash and coconut milk to create an amazing flavor and taste. It is chalk full of vegetables and spices – a really unique combination – that at first when you look at it you might not think so, but trust me it is delicious! Everyone loves it! And it usually makes enough that we can have it over 2 meals.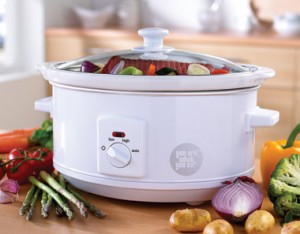 I found this recipe on the Crock Pot® website, where they have a large variety of slow cooker recipes. The only thing that I have modified in the recipe is the amount of chili powder, which I cut in half, as though we enjoy spice and flavor, we do not like it too hot 🙂
It does take a bit of time in the morning to chop and prep the vegetables and turkey, about 20 minutes, but it is well worth the time spent for the result at the end of the day!
Autumn Turkey Chili
1 onion, chopped
1 carrot, chopped
1 stalk celery, chopped
2 cups apples, diced
2 cups butternut squash, diced
4 cloves garlic, finely chopped
1 pound ground turkey, cooked
2 tablespoons chili powder
1 tablespoon ground cumin
1 teaspoon dried oregano
1/4 teaspoon salt and pepper, each
10 ounces chicken broth, canned, undiluted (I use 10 ounces of homemade chicken broth and this works well)
8 to 12 ounces coconut milk, canned
2 tablespoons tomato paste
1 cup black beans, canned, drained and rinsed
coconut flakes and cilantro, to garnish
Combine all ingredients (except garnishes) in slow cooker. Cook on HIGH 4-6 hours or LOW 8-10 hours. Open the lid for last 45 minutes of cooking to thicken if desired. Mash the squash with the back of a wooden spoon to thicken further if you wish.
Serve with rice or mashed potatoes, or just by itself.
Note: Use can use 4 cups diced cooked turkey or chicken in place of ground turkey.)
Enjoy!
If you try this recipe, please come back to the site and leave a comment. It's great to share recipes and experiences with others!