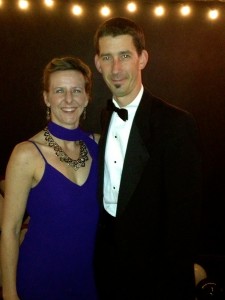 A couple of weeks ago I was visiting my sister in Vancouver, having a little me time and also there to attend my friend Stuart's 40th Surprise Birthday; she made this fabulous Butternut Squash soup. Now I have not been a huge fan of squash in the past but this soup was really yummy!
I had found that the texture of squash was not always to my liking, it felt kind of grainy on my teeth so I avoided squash in general. But lately I have been finding many recipes with squash that I and the kids have quite enjoyed. Like Spaghetti Squash with chicken and pears from Clean Eating Magazine, Acorn Squash with harvest rice stuffing and now this soup!
It is a dairy free, sugar free and gluten free soup, of which I think I had 3 bowls for dinner that night and then another 2 for lunch the next day!
I found the flavors delicious with coconut milk and cinnamon. The original recipe calls for 2 butternut squash but that day my sister used acorn and butternut squash and it was very tasty.
I was so excited about this soup when I returned home I went straight to the store to buy what I needed. Unfortunately, as life would have it, I did not make it until the other day as I could not get all the ingredients I needed, and then of course there was time and real life to get back to – you know 3 kids, running a household…
I made it with the 2 different squashes which I think just adds lovely flavor and served it to the twins for lunch. Both of them gobbled it up, asking for a second bowl, while I scarfed, I mean enjoyed, my own soup.
It is super easy to make as well and easily frozen if you don't wish to eat it constantly for a week.
Butternut Squash Soup
2 medium butternut squash, or 1 butternut and 1 acorn
1 pink lady or royal gala apple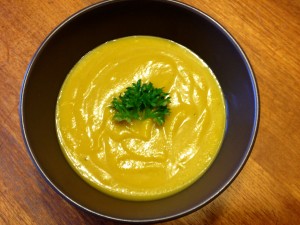 1 medium onion
1/4 c. Earth Balance vegan spread
900 ml chicken broth
1 c. coconut milk
1/2 tsp. dried sage
generous pinches of cinnamon and salt
1 tbsp. maple syrup (optional)
Chop and peel squash; cut in half and seed, then chop into small pieces. Chop onion and apple.
In a large saucepan over medium heat, melt Earth Balance, add onion and apple and saute until onion is soft. Add broth, squash, and coconut milk. Bring to boil and simmer for 20-25 minutes.
For the last 5 minutes add sage, cinnamon and salt. Squash should be very tender when done.
Use immersion hand blender in pot to blend until smooth or ladle soup into blender and whip on high until pureed. Pour back into pot and reheat if necessary. Serve.
You may add optional garnishes such as maple syrup drizzled on top, vegan sour cream, slivers of apple or dried sage.
Soup will keep well refrigerated for 5 days or in the freezer for up to 3 months.