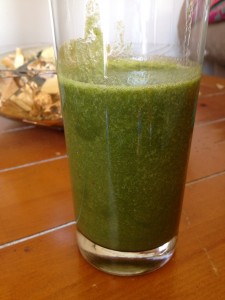 Green smoothies are super good for us. Loaded with many health benefits, they are a great way to load up on antioxidants and vitamins in a delicious way that satisfies our hunger. But did you also know that green smoothies are also a great way to detoxify and eliminate toxins from our body?
I've been drinking green smoothies on a regular basis for a number of years now because it is an easy way to get some of those vegetables and leafy greens into my day, without chowing down on salad all the time. Not that there is anything wrong with salad, but sometimes I just don't want it. Putting it into a smoothie makes it easy, palatable, tasty and easy to digest. The fact that it can also detox is a bonus!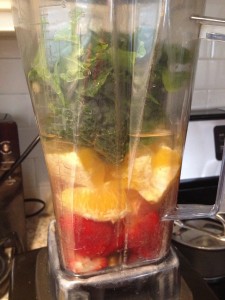 The trick is what to include in your green smoothie in order to reap these detoxing benefits and have it taste good. Many of the best ingredients for detoxing are bitter and astringent fruits or vegetables and the wrong combination can turn out not tasting very good. I don't know about you but I have had a few green smoothie combinations that I did not enjoy, basically gulping it down and vowing never to have that one again. I know for some people it is the green color in general that deters them, but I can get past that. For me, it needs to at least taste good or I don't care how good it is for me, I am not drinking it.
What I have found in general is smoothie combinations are truly personal. A combination I enjoy may not be what someone else does. (I have found this to be true in my own family where I will create a smoothie that I love and the kids don't care for it or vice versa). Because we all have differing and changing palates this is important to know and honor when creating a green smoothie combination that you like.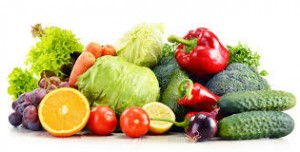 What I discovered when I participated in a Green Smoothie Challenge recently, was an easy formula to use in creating a great, tasty detox green smoothie. A detailed combo guide and basic directions were provided and then we were encouraged to create from there. The guide included a list of different fruits, vegetables, spices and essential oils to choose from that aided in detoxifying. The challenge itself was to create as many different green smoothie combinations as you wanted over the week long challenge and share them on Facebook.
I thought this was fantastic! With this basic guide I could create smoothies that everyone liked and we'd all reap the benefits. Plus I love a challenge and I dove right in, thinking about and creating combinations that I thought would work well together. Because honestly I like variety and for some reason I had it in my head that there were only a few basic green smoothie combinations and you had to go with those. But with this, I felt like a whole new world had been opened up to me, and I was excited!
Throughout the challenge I ended up creating 3 new green smoothie combinations that I really enjoyed – and one that my daughter loves – it's now her new favorite. Once I got the hang of it I branched out an experimented a little more than I usually would (like using dandelion greens), feeling more and more confident with each created combination.
3 Great Green Smoothie Combinations
Here are my 3 favorite green smoothie combinations that I created during the challenge
Combo #1
4-5 strawberries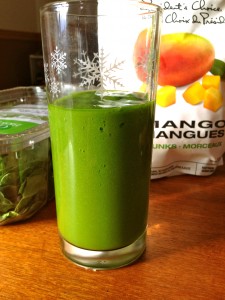 3-4 leaves of black kale
1/2 – 1 tsp. vanilla
2-3 leaves of fresh basil
1/2 c. coconut water
Combo #2:
1/2 of lime
Mango
handful of spinach
2-3 leaves mint
1/2 c. water
Combo #3: (my favorite)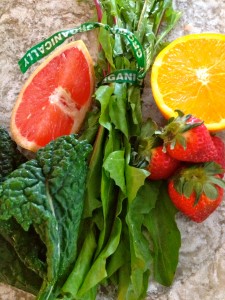 1/4 of grapefruit
1/2 of orange
4-5 strawberries
3-4 leaves black kale
4-5 leaves dandelion greens
3/4 – 1 c. water
One important thing to remember when creating your detox green smoothies is to avoid adding milks and juices and stick with water or coconut water for your liquids. This is easier on your body to process and provides the most success in your detox. Give these combinations a try and let me know what you think. Or use the green smoothie combo guide and create your own coming back to share what great combinations you've discovered. Whether you're detoxing or not your body will thank you.