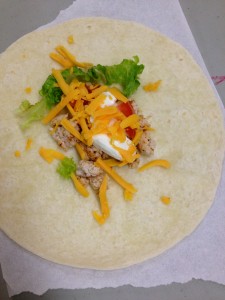 Tacos are one of those great foods that are an quick easy dinner solution that you can easily incorporate many food groups (including vegetables) and taste delicious. They are also a fabulous way to get the kids involved in helping make dinner as there is lots of scooping and use of their hands. You may think it will create a big mess, but here are some easy ways how to make tacos with the kids and be successful!
How to Make Tacos with Kids
1. Prep in advance – Chop, grate, cut the ingredients you are using in advance and put them into separate bowls that the kids can easily scoop or grab things out of. Place a spoon with each item so they don't mix them.
2. Provide a variety of ingredients – in Mini Chefs we used just lettuce and tomato and cheese, but you could include avocado, cucumber, spinach…basically any vegetable. Providing variety will not only makes the kids curious but it will also encourage them to try a little, especially when they are making their own.
3. Use some kind of dip or spread – sour cream, Veganaise or mayonaise, guacamole, salsa all add a little flavor and variety to their taco. It also makes it less dry and provides nice texture and easier on the palate.
4. Demo what it looks like – make one and show them what you would typically put in it, everything from sour cream to tomatoes and cheese. Let them know that if they choose not to put an ingredient in that's ok. The example will not only show them what can go in it but might encourage them to put some of those ingredients in themselves.
5. Let them make their own – give them the tortilla or taco shell and show them all the options, then let them decide which ingredients they want to put in and how much. (Remind them that they need to close up the tortilla so not to put too much in). When they make their own they are more likely to eat it.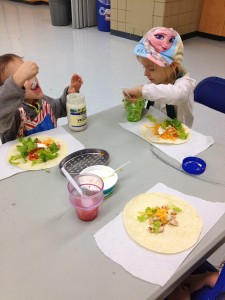 When I did this with my Mini Chefs class I had everything ready in advance and this made it very smooth when making them. The only thing we prepped together was to cook the ground chicken, which I did and they watched. They all really like watching what is happening as their curiosity makes them interested and that is the best way to get them engaged.
Many of them tried different ingredients, creating their own with various amounts of the things they liked. We used soft tortillas, which I find easier with kids because you can roll them up and have less stuff falling out! but you can use hard taco shells if you prefer. I did have to remind them that though they could put in what they liked, not to put too much in as we needed to roll it up and have it all fit.
Rolling them up was the fun part. I showed them how to do it and then helped each child coaching them through rolling it up themselves, which each of them did quite successfully. Once we had it rolled up then we chowed down and enjoyed our tasty creations.
I even had the next week a Mom share with me that her son had made tacos for supper one night after this particular class, which I was so pleased to hear. She said he insisted on clearing up which he never does and he is now also eating lettuce, which he never ate lettuce. Wrapping it up and presenting it in a different way is one of the many reasons why this has occurred. Plus he (and the other children) were allowed choice in what they could put in and weren't told that they had to use this ingredient or that one.
I feel that this class has been our most successful class so far and that learning how to make tacos has taken the children's learning in the kitchen to the next level. It really is a simple nutrition packed meal which can easily be modified if you want it dairy free, vegetarian or packed with protein (add kidney beans or chick peas). There are a large variety of different taco recipes and combinations to try, but I would recommend starting with a basic recipe to get the kids into it, and then expand upon it from there.
Tacos
Ingredients:
1 pkg. ground chicken (or any choice of ground meat)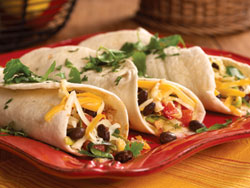 1 tbsp. taco seasoning (recipe below)
tomatoes, chopped
lettuce, chopped
Daiya cheddar cheese, shredded (or regular cheddar if desired)
Vegan sour cream – I love Earth Island (or regular sour cream)
tortillas
Brown ground chicken in frying pan. Add 1 tbsp. of taco spice and mix.  Lay out one tortilla flat on counter or plate, spread a spoonful of sour cream on tortilla, add spoonful of chicken, tomato, lettuce and cheese. Fold tortilla over once, tuck in ends by folding over on each side, then roll the rest of the tortilla to end.
Taco Seasoning
(this is an easy seasoning that can be made at home with spices you likely already have in your cupboard. Pre-make it and skip the processed package stuff from the store)
Ingredients
1 tablespoon chili powder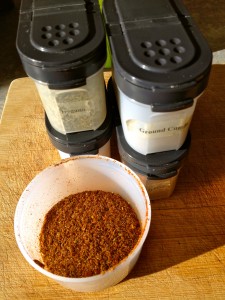 1/4 teaspoon garlic powder
1/4 teaspoon onion powder
1/4 teaspoon crushed red pepper flakes
1/4 teaspoon dried oregano
1/2 teaspoon paprika
1 1/2 teaspoons ground cumin
1 teaspoon sea salt
1 teaspoon black pepper
Mix all ingredients together. Store in an airtight container.
Do you have a favorite taco recipe that your kids love? Share it below
Coming up next…some chocolate delights, macaroons and chocolate pudding!
Don't miss our other kids healthy cooking recipes such as yogurt parfaits, tuna melts and kids smoothies