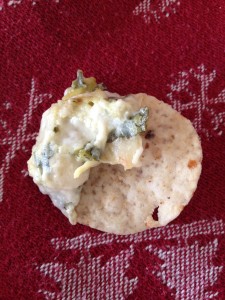 There's nothing like a good dip at a party! Something warm, cheesy and delectable to dip that cracker or tortilla chip in. Yum! Of course there are lots of other yummy dips that are served cool and aren't as heavy or dense as the cheesy ones. In fact I have discovered some great ones over the past few months, usually from sampling at Community Natural Foods, our local natural food store, such as a sweet carrot dip and spinach dip.
I think dips make great snacks, not only are they good at parties but they are also great for that late night munching, especially if you are looking for something a little more healthy. Things like hummus, black bean dip and the above veggie dips are very tasty and satisfying. Though I have to say sometimes I just want a nice creamy, cheesy warm dip, full of flavor and taste!
That's why when I discovered this yummy dip back in the spring I was in heaven. I was hosting a Pampered Chef party and this was the recipe I chose to try. The original recipe was so full of dairy but I knew I could substitute and it would turn out fantastic. And I was right, it was fantastic!

I was so pleased that I now had a yummy dairy free creamy cheese warm dip to make (I know that's a mouthful). It is a super simple recipe, done all in your microwave (though I am not a huge fan of making it in the microwave I have yet to figure out how to get around that). It takes no time at all to make. It's a great dip for parties, snacking or New Year's Eve gatherings, made with ingredients that you'll likely have around at home (unless this is your first recipe that's dairy free than maybe not, but trust me the dairy free version is worth it and provides lots of health benefits. Plus it has Kale, that's a superfood)
Kale and Artichoke Dip
1 – 12oz jar artichokes, drained
1 – 8 oz can sliced water chestnuts
2 c. Daiya mozzarella cheese, shredded
1/4 c. grated vegan parmesan cheese (I use Go Veggie Soy Parmesan)
1/2 c. veganaise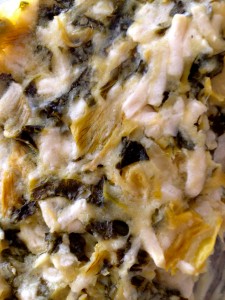 1/2 c. vegan sour cream
2 cloves, garlic
3 c. fresh kale leaves, stems removed and torn into pieces
baked pita chips, triscuit crackers or cut up vegetables for dipping
Place artichokes and water chestnuts in a manual food processor. Process until coarsley chopped and place in a microwave safe glass or ceramic covered dish (8×8 square or round).
Add mozzarella, parmesan, veganaise and sour cream. Mince garlic and add to baker, or use garlic press.
Microwave on High for 2 minutes until cheeses begin to melt. Remove from microwave and mix with spatula until well blended.
Place kale in food processor and process until finely chopped. Add kale to cheese mixture and stir in well. Put covered dish back in microwave and cook on High for 2-3 minutes. Stirring halfway through, until hot and bubbly.
Serve immediately with chips or veggies. Serves 30