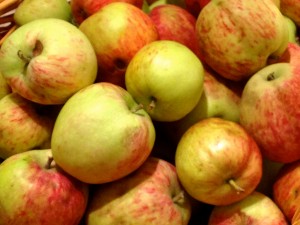 Tis the season of apples! Fresh juicy apples right from the tree or at the local farmers market. They are sweet and delicious and in abundance at this time of year.
Apples have long been a symbol of good health and an easy grab and go snack. They are a great source of vitamin C, K and B vitamins; as well as a great source of fiber and natural sugar. They aid in the prevention of cancer, tooth decay and heart disease and are a great natural substitute for sugar in recipes as well as an enjoyable snack for the kids.
A few years ago we planted an apple tree in our backyard. I have always liked going out into my own yard and being able to pick fresh fruit from the tree. There is just something about having grown it yourself and being able to go and help yourself that gives me a feeling of pride as well as a good feeling knowing that it is pesticide free and where it has come from.
The kids love the apple tree. Once those blooms in the spring start growing into apples it is hard to get the kids to not pick them off the tree. Matthew is now at the age where he understands that they need to grow and will get bigger, that they won't be ready until September. But Luke and Chloe just see an apple, they are curious so they pick it. It's pretty challenging to explain to a 2 year old that they aren't ready yet.
Nonetheless, we had many apples 'make it' to September and they are now ripe and ready for eating. They are so ripe that they were starting to fall off the tree, and I knew that in order to keep them from rotting on the ground that it was time to pick them.
So yesterday morning we went out with Luke and Chloe and picked the apples from the tree. I didn't think there were that many, but we ended up filling a huge basket. Now the challenge with having a tree and so many apples is what to do with them. Though apples keep fairly well, they do tend to go soft eventually. And I hate to waste good apples, so I make many apple recipes. Apple pie, apple muffins, applesauce, and my favorite apple crumble. I think it is the crumble I enjoy the most, I usually double the topping so that there is more 🙂 but that's ok.
I find crumble to be a quick and easy dessert that I can make in about 10 minutes and pop into the oven. It is great with ice cream, whip cream or all by itself. We use a non-dairy ice cream called Rice Dream or a non-dairy whip cream. I also have an apple peeler, corer, slicer, that makes making any apple dessert very easy. It peels, cores and slices the apple all at once in less than 10 seconds. I would recommend one of these for anyone who makes things with fresh apples, it saves you a lot of time and is very easy to use.
My recipe, originally from my mother, I have adjusted to a dairy free, sugar free version which is just as delicious as the original. The first time I did it without sugar I used honey in place of the brown sugar which worked well. But recently I have discovered coconut sugar, which melts just like brown sugar would. We now use it on our oatmeal in the morning and for our cinnamon apples when we go camping! And when I made the crumble yesterday I used coconut sugar instead of honey and I would have to say this is now my preference. It tasted just like the one with brown sugar.
So when you make this crumble, you choose which sweetener you prefer, perhaps make 2, each with the different sweeteners and test it out for yourself. I am sure your family will have no problems eating them up!
Unfortunately for me I only used 4 apples in my crumble, which hardly put a dent in the apples I have. I am going to have to get creative over the next little while and see what else I can come up with! In the meantime, enjoy this wonderful apple crumble, whether the apples come from your own tree or the local market, it is going to be delicious!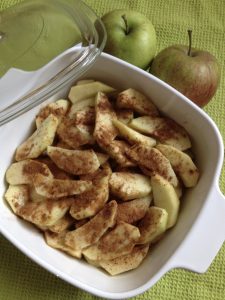 Sugar Free Apple Crumble 
Topping
1/3 c. coconut sugar or honey
1/3 c. flour
3/4 c. rolled oats
1/3 c. Earth Balance
Filling – 4 large apples * peeled, cored and sliced
Place prepared apples in a 1 liter/ 4 c. corningware dish. If your apples are more tart, drizzle with a little honey, then sprinkle with cinnamon. Mix topping in a separate bowl. Place topping over apples and pat firmly.
Bake at 350 F for 30 minutes in a covered corningware. Remove cover for the last 5 minutes to brown top.
*use your favorite fruit in this crumble instead of apples, such as peaches, blueberries, etc.
Serves 4