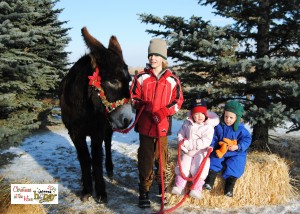 On the weekend I took the kids out to the Chinook Honey Company in Okotoks. A local honey farm and winery, they were hosting a Christmas family event with lots of activities for everyone.
When we first got up in the morning and I checked the temperature I debated on whether to go. It was -15 C and I knew most of the activities would be outside; and though we would dress for it, I knew for the little ones it might be cold.
As we putzed around and got breakfast going I slowly started to pack snacks and lunch, having decided that we would go and check it out. Though it was cool, I knew there were some buildings there that we could go into if we got cold; and living in Calgary you really can't let the weather stop you from doing things. If you did, you'd never go anywhere or do anything. Besides this was the last day the event was on and I thought it would be fun for the kids.
And it was! It turned out to be one of those sunny clear blue sky Alberta days with lots of fun to be had. They had a scavenger hunt, apiary tours, and pictures with Christmas Critters. The kids could make their own beeswax snow candle, go on sleigh rides and enter the coloring contest. There was also an observation area where you could check out the bees in their hive, we even spotted the Queen.
Luke really enjoyed standing there and watching the bees. He just stood in front of the glass, head tilted up, watching. Chloe loved the animals, they had a horse and two donkeys that you could have your picture taken with. It took us a few tries getting the animals, and the kids all looking in the same direction, but we finally got a nice shot of everyone. Chloe and Luke insisted that they got to hold the rope of the donkey, just like Matthew did and Chloe cried when the donkey had to go back to his pen after the picture (cause she wanted to pet him some more).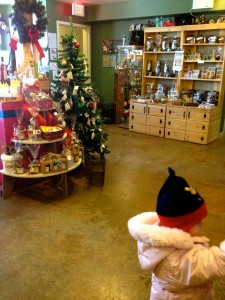 They have a full store out there as well full of various honey products, such as beeswax candles, honey sticks, chocolates and the winery. It was decorated beautifully for Christmas, a rustic sort of look. The staff were extremely friendly as well and it's a great environment to hang out.
They had a big fire pit outside to hang out and have hot chocolate and snacks and they even had carollers out there at one point. We did the apiary tour, which was interesting as the 'King Bee' Art, explained and showed us how they set up the 'hives' for the bees and how they extracted honey from them. It was fascinating, and all the kids were very attentive.
We learned many things such as how the bees 'make' their queen, how long she lives (4-5 years), what the role of the workerbees and drones are. He also told us how Albert Einstein once said that once the honey bee poplulation of the world was zero that we would have 4-5 years left to live; and that the honey bee populations of the world are dwindling and are down by 30%. Farmers are now working hard to keep healthy bee populations as they are so important to our ecosystem.
It is also highly beneficial for us to consume local honey made by local bees, as local honey provides us with immunity builders to environmental conditions in our area. So buying local is not just beneficial to the local economy but good for our health as well!
All in all it was a great day at the honey farm, we learned a lot, we played and we even left with a treasures, beeswax candles and some wonderful memories!