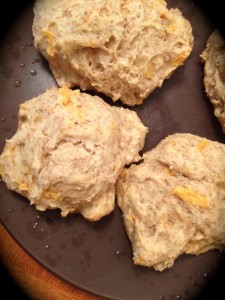 One of my favorite meals, especially in the summer, is corn on the cob with biscuits. I have no idea why I enjoy this combination so much or even where I came up with it, but it must have seemed like a good combination at one time and it seems to have stuck.
The kids get so excited when they see me mixing up the biscuit dough, literally jumping up and down. They always help me husk the corn, loving pulling off the green to reveal the sweet corn inside. (We do this outside on the deck, then we can make a big mess and it doesn't matter as much)
I usually make the biscuits from a Bisquick mix, using their recipe on the box for drop biscuits, substituting my almond milk and dropping the biscuits by the teaspoon to bake. But the other day when I was grocery shopping and went to pick up Bisquick I looked at the package, actually reading the ingredients in the mix (I am not sure why I have never done this before). In reading the ingredients I realized that it contained sugar, something I have been diligently avoiding and eliminated from our diet. Why oh why had I been continuing to use the Bisquick and not paying attention? This did not seem like me at all. Perplexed by my own idiosyncrasies, I decided not to purchase the Bisquick and put it back on the shelf.
I then remembered that when we were in Australia last summer visiting my sister that she had made these delicious biscuits one night from scratch and had given me the recipe. I knew that regardless of what the ingredients were I could modify it accordingly if needed. I was a little unsure though of where this recipe might be…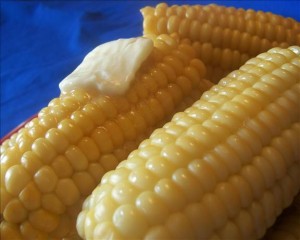 Luckily it was easier to find than I thought, with hardly any adjustments needed. I was off to town and ready to make biscuits! They turned out very well, golden brown, fluffy and delicious! We all gobbled them up, eating them fresh from the oven, slathered with butter.
The recipe makes a good amount of biscuits, boasting 16 good size biscuits on average. I also like the options for this recipe, being able to add in things like cheese or ham if you want to, or simply making a plain biscuit. I also love the slight hint of cayenne that goes into this recipe, as it gives it just that subtle flavor and kick. I have yet to make this recipe and actually roll out the dough. I am lazy, and usually making dinner quickly, and I think they turn out just as nicely. Plus I say why create more work for yourself rolling them out when dropping them by the tablespoon works quite well! No one is going to pass on eating them because of it.
Now though my kids usually associate biscuits with corn on the cob, you can easily serve these with other yummy meals, such as chilis, stews, or whatever meal you want to add biscuits to! They are quick, easy and are a delicious recipe to make from scratch.
Homemade Biscuits

1 cup all purpose flour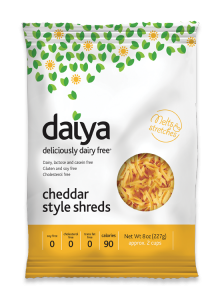 1 cup whole wheat flour
2 tsp baking powder
1 tsp baking soda
1/4 tsp salt
1/8 tsp cayenne pepper
1/2 cup shredded cheese (I use Daiya vegan cheddar)
3 tbsp Earth balance vegan spread
1 cup almond milk
1 tsp honey
Combine flours, baking powder, soda, salt and pepper.  Stir in cheese. Cut in Earth balance until mixture resembles coarse crumbs.
Combine milk and honey. Add to dry ingredients. Use a fork and stir to form a soft dough.  Turn dough out onto lightly floured surface. Form a ball and roll out to 1/2 " -3/4″ thick. Cut into 2 inch rounds. Or if you don't want to roll the dough, drop by the tablespoon onto a baking sheet.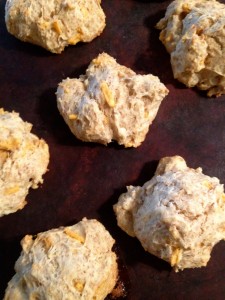 Bake at 425 F for 12 minutes or until golden brown.
*other additions – may add bits of chopped ham, bacon, onion
Makes approximately 16 biscuits