It's that time of year again, back to school, back to routines and also time to try new things.   We had a fantastic summer full of camping trips, days at the lake and all kinds of other adventures. You may have noticed I was suspiciously absent during the month of August. This is because I packed up the kids and went to Australia for 3 and a half weeks! My sister is there for a year with her family as her husband is on a teacher exchange.
I couldn't resist the opportunity, as Australia is a place I absolutely love! And even though I have been before there is so much to see and do, it was time to go again. Plus this time we included a week in New Zealand, which I had not been to before.
As a result I have tons of things to share with you and lots of blog posts to write about where to go and what to see in that area of the world. So this Fall I will include a weekly feature about some fabulous place in Australia or New Zealand. Giving you the scoop on how it works for families and children and what recommendations we have.
Also this Fall I will continue with sharing fabulous recipes that I have found and tried, that are sugar and dairy free, and sometimes gluten free. There seems to be an endless stream of yummy recipes out there! and I have a big bag (literally) full of them to try. For instance this morning I made Apple Cinnamon muffins again, which I tried last year and we really enjoyed. This year I tried something a little different, using leftover almond mash from making almond milk. They were so moist and yummy… Of course I promptly shared them with my neighbor and friends this morning over coffee as we sat outside amongst the beautiful fall leaves.
These are the posts I will guarantee in amongst all the joys, trials and insights of having 3 children, whether it be tips on how to get them out the door in the morning or programs and crafts that I would recommend. And sometimes whatever moves me, whether it be a good book I've enjoyed or a moment I need to share. This is the joy of blogging!
Right now I am up to my ears in apples, like last year, we have reaped an abundant crop from our tree and are enjoying apple everything. I have made more crumbles than I can count, as well as pie, muffins, smoothies (ever tried an apple pie smoothie? Yum!), juice, etc. Though I have recently discovered apple butter – OMG! delicious and might try making that.
Fall is also my most favorite time of year! and I get super excited and motivated at this time of the year. Seasonally it is a time of ending, getting ready for a period of 'rest', but I see it as a time of new beginnings with all kinds of things that I want to try, or the kids want to try. Plus I love the warm golden sunny days, and the crisp Fall evenings. Gorgeous.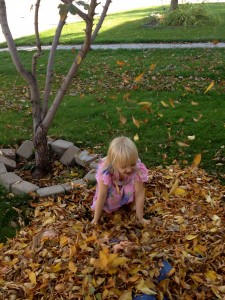 With that, I will leave you with the promise of what's to come, and thoughts of what you're favorite things about Fall are, or famous apple recipes you love. May you enjoy all that the season has to bring and more.
What are your favorite things/ activities in Fall? Have any good apple recipes? I'd love to try them. Please post in the comments below.